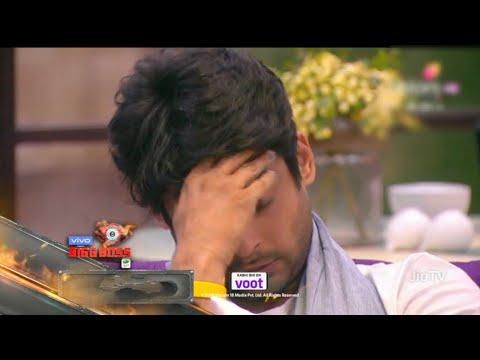 Speculations about Siddharth Shukla's eviction are making headlines today. However, the fans are pretty confident that the strongest contestant of Bigg Boss 13 will not be evicted in this fashion. Audience of Bigg Boss 13 are already unhappy about the proceedings in the house. Too much drama and chaos has made a black mark on the show's current proceedings.
To add salt to the bruise of Bigg Boss 13, a major fiasco occurs in the house during the performance of the "BB Transport Service" task.
A new task is given in the house titled as "BB Transport Service". There are two teams for this task
Team A – Sidharth Shukla, Asim Riaz, Arti Singh, Shefali Jariwala, Hindustani Bhau & Himanshi Khurana
Team B – Paras Chhabra, Mahira Sharma, Tehseen Poonawalla, Khesari Lal Yadav, Shehnaz Gill & Arhaan Khan.
What Happened Between Mahira and Siddharth Shukla?
In the slow motion video, it is seen that the contestants are performing the tasks with full determination. Siddharth Shukla is seen holding a carton which Mahira tries to get a hand on. However, Siddharth Shukla denies her the chance to grab the carton and swings it away. While Mahira is still holding onto the carton, she is pushed onto the floor.
Was Siddharth Shukla Wrong?
Major debates arose about who was right and who was wrong. While the two contestants were performing their task with full josh, Siddharth Shukla seemed to flex his muscles a little without keeping in mind about Mahira's safety.
Was Mahira Exaggerating?
An exclusive slow motion video reveals that Siddharth Shukla swung the carton but never pushed or pulled Mahira. Mahira could have let go of the carton. Also, Mahira seems to have exaggerated the fall to a great extent. The intensity of the swing by Siddharth was not that high to push Mahira down that badly.
Watch it in SLOW MOTION#BiggBoss_Tak #BB13WithBiggBoss_Tak

— #BiggBoss_Tak👁 (@BiggBoss_Tak) November 5, 2019
Siddharth's fans are tweeting with hashtags like #WESTANDBYYOUSIDSHUKLA, #WeSupportSidShukla in favor of their favorite contestant.