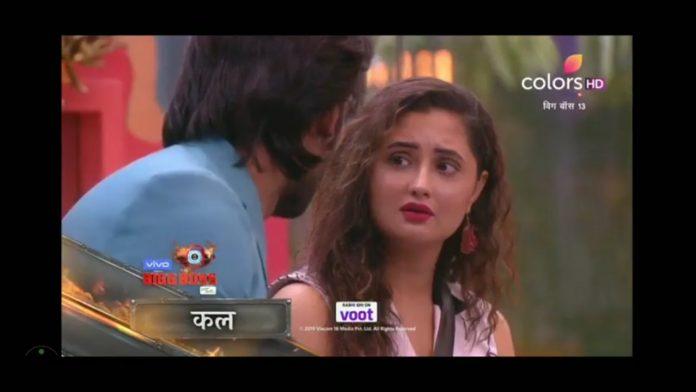 After the upheaval in Bigg Boss 13 in the last few days, Salman Khan will once again be seen blasting in his class regarding the behavior of family members in the weekend war. Today Salman Khan's anger will come out on all the contestants. In the last episode, Shehnaz Gill, Mahira Sharma, Rashmi Desai and Shefali Jariwala ridiculed each other while making personal comments on each other. During the luxury budget task in yesterday's episode, all the families have come together to fight in the battlefield as if the task was not. After seeing the anger of all the members, this task was cancelled by Bigg Boss. During the task, Asim Riaz and Rashami also suffered significant injuries in their hands. During this, Rashmi's finger also fractured and she requested Bigg Boss to quit the show. After this, Bigg Boss has recently released a promo in which Salman is seen taking a veil from Arhaan Khan's rule.




In this promo, Salman Khan says, "You are playing the task or showing your strength to each other, do not see what will happen at the most, one will be beaten and the other will die." After this, Salman Khan says to Arhaan, Arhaan has a wife & kid outside of Biggboss. Salman said that Arhaan has a lot of loans and he's in debts outside. And Suggests Rashami that Arhaan is not true to Rashami. There are also reports from various sources that Arhaan has literally been flaundering Rashami savings and has no account of what he's spending it on. All this is happening while Rashami is completely clueless about it. Her close friends and family members are witness to the whole tamasha happening but their hands are tied. Rashami trusts Arhaan completely & before she went inside for BB 13, she gave him full access to her bank accounts, house and almost everything else. While she has been inside, Arhaan has been misusing her money. Salman knows Rashami for years now & he wants her to know what Arhaan has been plotting behind her back. All this engagement & marriage proposals are nothing but fake. Salman warned every HMs to avoid any discussion regarding Arhaan khan in House. And he said Paras agar aata hai toh usko bhi bol Dena ki yeh sab baatein avoid Karne.
https://www.instagram.com/p/B5wjxV0Ajut/?utm_source=ig_embed
This week, Asim Riaz, Himanshi Khurana, Rashmi Desai and Shefali Jariwala are nominated to be evicted from Bigg Boss house. But it is heard that Himanshi Khurana has been rendered homeless due to the lowest number of votes. Well, viewers of today's episode are eagerly waiting.