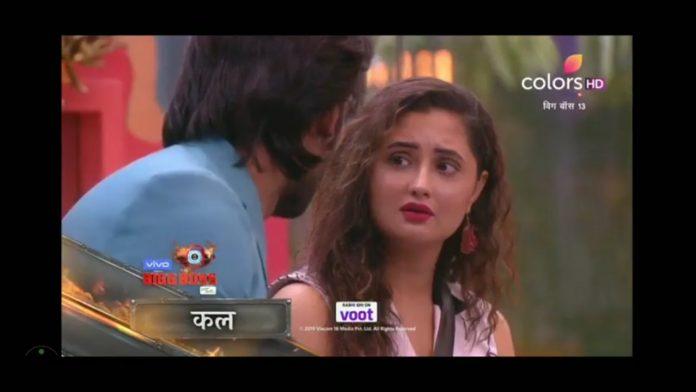 In Bigg Boss 13, Salman Khan has revealed that in the weekend ka vaar, Arhaan Khan has hidden the fact from Rashami Desai that he has a son from his first marriage, the show has been a ruckus ever since. The effect of this matter was seen along with the house. Rashami Desai cried a lot after knowing the truth. After that, Rashmi Desai was seen talking with Arhaan Khan in the later episodes. Seeing Rashmi Desai, it did not seem that her heart was broken some time ago.
After the episode of Weekend ka Vaar came out, people started to believe that Rashami Desai has forgiven Arhaan Khan. That is why she was also seen expressing love to Arhan Khan one day in the middle, but it seems that TV's Hasina has not forgotten this pain yet. We are not saying this. A video released by Bigg Boss is proof of this. In the shared video, Rashmi Desai is seen sitting with Arhan Khan. Rashami Desai is seen talking to Arhaan here.
That thing is different, Rashmi Desai starts crying while talking after some time. Seeing Rashmi Desai as Rita, Arhaan tries hard to silence him. Rashmi Desai's tears do not stop even after celebrating lakhs. She is seen telling her heart to Arhaan. During this conversation in the video, the two are sitting alone. At the same time, Arhan Khan is trying to explain his point to Rashmi Desai. Even after this attempt, Rashami Desai is seen crying loudly.
Watch this video of Bigg Boss 13-
Seema like all is not well between #ArhaanKhan and #RashamiDesai once again. We got our hands on a video that sees her complaining and sharing with Arhaan Khan about him and other housemates as well.#BiggBoss13 | #BiggBosshttps://t.co/boekGaysIY

— Oshine Koul (@oshinekizubaani) December 13, 2019
This video of Bigg Boss 13 is so clear that even though Rashami Desai is hesitant to talk about her pain on TV, she has been greatly hurt by Arhan Khan. In such a situation, it is possible that Rashmi Desai should leave Arhan later. Well, tell us how excited you are to see this emotional segment coming on the show.