Bigg Boss 13 completed its fifteenth week. With 100+ days in the house, the atmosphere continues to be filled with love, fights, abuses and escalated taunts as usual. A few contestants have been in the house right from the beginning of Bigg Boss 13. However, the upcoming days will decide their fate.
One such contender for the Bigg Boss 13 title is Paras Chhabra. With his not so great credibility, he stuck to Mahira and sailed across the fifteen weeks with a negative image most of the times. Ever since Paras become too close to Mahira, his girlfriend outside the house Akanksha Puri has gained a lot of popularity.
Akanksha Puri is making the most Paras' stint in Bigg Boss 13. Akanksha's tattoos are doing the buzz on social media and there were reports of her getting tattooed once again. Akanksha shared a video of her getting her tattoo redesigned from her existing lotus to something even more bigger. It looked gorgeous on her sleek hips for sure but her post triggered the rumors on the internet.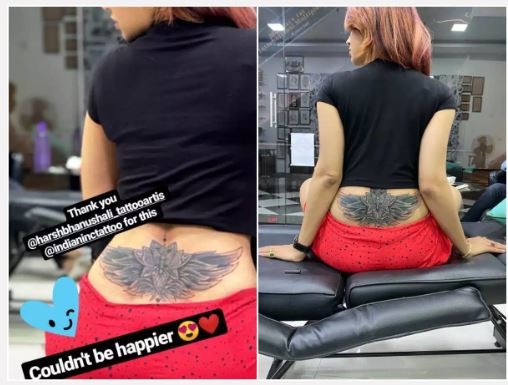 Akanksha's post read, "Couldn't Be Happier" and she had mentioned that, "I already had one tattoo there and I went for a touch-up, but then I redesigned a bit with touch up. I have added wings to the lotus because it's time to fly."
While it is unclear about her clear agenda and the message she wanted to convey, Akanksha might have wanted to say that she is ready to fly away from Paras? Let us know what you thought of the tattoo in the comments below.