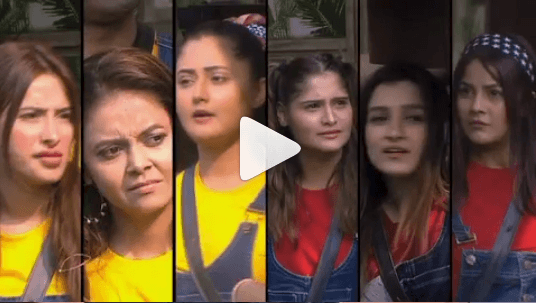 Bigg Boss 13 enters a very decisive phase in the competition. The house is divided and controversies, fights are escalating by the day. The female contestants are divided into two groups. However, it is tough to decide who will get evicted in this week's nominations. Rashami and Mahira are nominated for eliminations among the women contestants.
In today's ticket to finale task, the two groups of female contestants who fought in the BB Bank task will be seen fighting again.
Group – 1 – Arti Singh, Shehnaaz and Shefali
Group – 2 – Mahira, Devoleena and Rashami
According to sources, only one female contestant will get the ticket to finale in today's task. The women of the house are desperate to win this task as they know that the upcoming days could be lethal to their dreams of making it across the first finale of Bigg Boss 13.
Seeing the promo of Bigg Boss 13, it would not be wrong to say that, this time all the members of the house are very serious about this ticket to finale task. In such a episode, there will be a fierce battle between them all in today's episode. How eager you are to watch the new episode of Bigg Boss 13, comment below. Vote for your favorite women contestant who will win the ticket to finale of Bigg Boss 13.
Bigg Boss 13 Ticket to Finale – Vote For Your Favorite Female Contestant!
Who Will Win the Ticket to Finale in BB13?