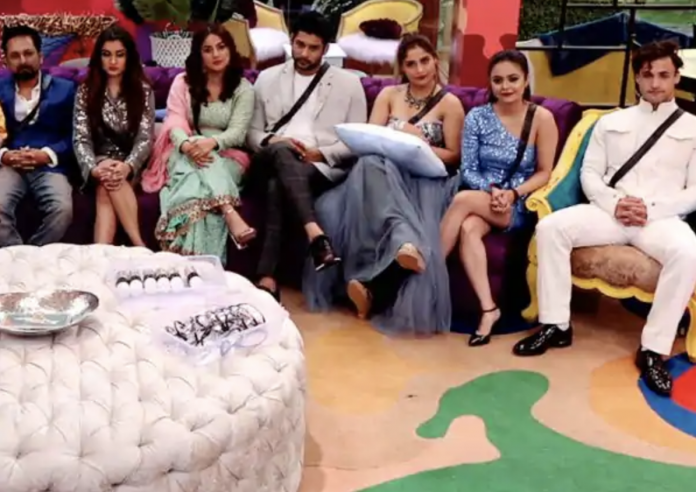 The week 3 started on Bigg Boss 13 has been completed, so soon the finale of this show is going to happen. Salman Khan had informed at the beginning of this season that this time the finale will be completed in 4 weeks. If seen, the fourth week of Bigg Boss has started and this week is going to be very turbulent inside the house as promised by the makers.
(Update – BB 13 week 4 voting has started and open till Sunday 26th October. Vote here – https://thenewscrunch.com/bigg-boss-13-week-4-voting-online-all-contestants-nominated-two-or-four-eliminations-this-week-during-finale/8817/)




It was heard that half the people from Bigg Boss 13's house will be eliminated from the house before finale. In this way, a total of 4 people can be evicted by the makers this week. Bigg Boss recently announced that after the fourth week only 3 females and 3 mail contestants will be present in the house.
Now you must be wondering if Bigg Boss will make four people evict on the same day? The answer to this question will be known by this weekend, but it is being speculated that Mid-Week Eviction is going to happen this time. Yes, this time during the Mid Week Eviction, two people may be thrown out of the house under some twist. The remaining two people can be evicted from the house during Bigg Boss weekend.
Contestants have got new nomination task
Recently, Bigg Boss has given a new nomination task to the housemates, under which the housemates are celebrating Rose Day in the garden area.
Such people will be nominated
Whichever boy arrives first in the garden area in the house, he can hand over the rose kept there to any girl. The girl receiving the rose will be safe from nomination. A girl who is safe can nominate any boy. The thing to note here is that whichever girl will have a rose when the buzzer rings, only she will be saved from nomination.