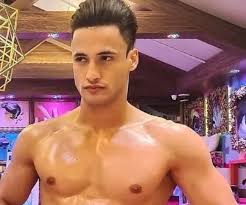 The Big Boss 13 journey began four months ago. Celebrities from various walks of life entered the house to carve a niche for themselves and to create an image based on their real personalities. One such contestant was Asim Riaz. A model by profession who was first known for his versatile English and charming looks but he gradually climbed up the ladder of popularity to be further ranked as the 24th Sexiest Man in Asia. His growth graph has been spectacular and he takes pride in being a self made man. Asim's journey through the last four months has had its ups and down but the way he took on every challenge is truly commendable.
1. Asim Riaz – King of Task Performances!
What got the attention of the viewers towards Asim was his ability to perform tasks. He was always on the forefront doing his best to win and make his team win. There have been defeats but he surely won millions of hearts as they saw his sweat it out during the tasks. His spirit to never give up and the need within him to complete a task rather that dissolve it is what set him apart. May it be the latest task where he put his heart and soul to support Arti Singh from eliminations or his earlier tasks when he under pressure when his fellow contestants were throwing condiments on him. Asim rose above all these external pressures to emerge victorious.
https://www.instagram.com/p/B73c7ggp8qI/
2. Asim's Fan Army
Inspite of Asim's credibility and ability to stay strong, his fans have been a major source of support for his journey in Bigg Boss 13. Without such support, any contestant ought to fail. However, Asim's fans have created history on Twitter with 15 Million Tweet marathon which was never seen before. Time and again, we have seen fans of Siddharth and Asim clashing on Twitter and the latter wins the battle by a mile, thanks to his fans.
https://www.instagram.com/p/B8MHZo-JPAO/
 3. Asim Riaz – An Ideal Friend
https://www.instagram.com/p/B8GaEEtJtgs/
There is no doubt that when you make a friend in Asim he sticks by you always. This was seen time and again in the house. Asim mingled around and made new friends all the time. Initially his bond with Siddharth garnered alot of praise but when he felt that Siddharthwas not the right fit for him he took it upon himself to detach. Asim then created his own group with wild card contestants Himanshi Khurana and Shefali Jariwala. Asim fell deeply in love with Himanshi and that is another story to tell but he always stuck by his friends until relationships turned sour. Switch to phase three, Asim bonded with Rashami Desai and Vishal Aditya Singh. It was beautiful to watch Asim fight for his friend Vishal to save him from eliminations. He didn't consider competition within friendship and just wanted his friend to rise.
4. Asim The Lover Boy!
https://www.instagram.com/p/B722hcXhS4s/
When Asim entered the house hardly did he know that he would fall in love. The phrase 'truly, madly, deeply' was created to categorize Asim. When Himanshi Khurana entered the house as a wild card contestant Asim felt a strong connection. He was unable to work on this affection that he had because Himanshi was engaged but being the gentleman that he is he knew where to draw his boundaries. Even after Himanshi's elimination, Asim would say her name everyday and miss her dearly even though he knew that they was a chance she could have been married by then. But good things happen to good people. Himanshi entered the house as Asim's connection and professed her love for him. Asim was filled with emotions and went down on one knee to propose. His proposal gained alot of flak but that did not dampen his spirits.
 5. Asim – The Only Contestant To Stand Tall Against Siddharth Shukla
Over the period of time, Siddharth Shukla has been a dominating force in this season of Bigg Boss.  Asim's journey would not be complete without his aggression. He has shown time and again that for a young man his blood boils more than ever. Asim has often lost his cool for the right reasons but there have also been times when there was no reason for him to yell. He was often reprimanded by Salman Khan for the Asim. But Asim would not be Asim if he didn't stand for what he was sure off. There have been almost violent brawls between Asim and Siddharth Shukla. They have abused each other, pulled their families into the fight but what can we say, it's all part of the game. Under the tremendous pressure that Asim is under it was but natural that he would crack eventually but has played the game strategically and knows how to play his cards right.
https://www.instagram.com/p/B6ntqXgJUS5/
While Asim has gained a fan base that is unimaginable at this stage, his journey speaks wonders. He has played well and won hearts. Considering all above factos, the winner of Bigg Boss 13 will be Asim Riaz.