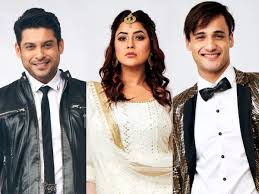 The most awaited night has finally arrived. The stage is set for the finale of Bigg Boss13. People have been eager to know who will take the trophy home after four long months. Everyone has been feeling the same emotions as the contestants have felt. The stage has been set and in a few minutes the most awaited night will begin. Contestants Asim Riaz, Siddharth Shukla, Shehnaz Gill, Arti Singh and Paras Chhabra have been in the house for the last four months and one lucky contestant will hold the trophy tonight.
Currently it seems as though Asim Riaz, Siddharth Shukla and Shehnaz Gill have a chance of lifting the trophy. Taking into consideration their remarkable journeys and strong support.
The finale will be hosted by Salman Khan with loads of fun and excitement coming your way. As people are waiting with bated breaths, we will be updating you about the finale from time to time.
Salman's Dazzling Performance
The Grand Finale begins with the host Salman Khan taking the audience down memory lane. Times when he sweared to keep his calm but the contestants left him with no other option other than to yell at them. He then dances on 'Munna Badnaam Hua'. Post this he says that the contestants garbage is their own and not his but he literally too their garbage into their own hands. This Big Boss 13 he went into the house and cleant the contestants garbage. He asserts that being the host is not fit for many mentally but he has done well. Shift to how he has been talking to an orange and apple which brought in a new love story. He even keeps saying that he has been doing Bigg Boss for ten years now and is thoroughly bored but in reality he has a ball of a time. He says he has alot of fun in the last ten years. He goes on to present the Top 6 contestants, Asim Riaz, Arti Singh, Paras Chabbra, Shehnaz Kaur Gill, Siddharth Shukla and Rashami Desai.
Top 6 Get Emotional Looking At Their Families
The Top 6 contestants were given the chance to see videos if their families. Everyone gets tears in their eyes on seeing their families share their support. Rashami Desai cannot control herself when she sees her mother onscreen. Asim Riaz's mother cries and tells her son how much she loves him and misses him. Siddharth Shukla's mother tells him how proud she is that he learnt to be domestic. Shehnaz Gill's parents are so proud of her journey and how far she has come.
Who Will Take 10 Lakh Rupees?
Salman Khan gives the contestants an option to choose a briefcase of 10 lakh rupees. He reminds them that only the winner will take the prize money home and the rest will have nothing in hand. Salman gives them some time to decide and then press the buzzer. Once the time is up, Paras Chabbra takes the money and leaves the stage. He tells Salman that he was clear that he would come and leave on his own terms. Salman Khan tells him that his feeling was right and he made the right decision.
Sunil Grover Adds The Humor Element
This season would not have been funny with Sunil Grover entertaining us during Weekend Ka Vaar. He came on this time and replicated celebrities like Manmohan Singh, Donald Trump, Shah Rukh Khan and Salman Khan. He spoke about how these huge celebrities in their own way would support Bigg Boss 13. He further enacted as Amitabh Bachchan and spoke in a poetic form about the major issues that we saw this season like Rashami Desai's house key issue, Madhurima Tuli hitting Vishal Aditya Singh and Shehnaz Gill as the flipper. Sunil then enters the house as Guthi and sings for Shehnaz's wedding.
Romantic Performances
This season saw romance in bucket load. the finale showed our favorite couples of this season performing. It starts with the scintillating performance by the first couple of the season Paras Chabbra and Shehnaz Gill. They did not work out and the situations that followed post that have been bitter. The next performance on Dheeme Dheeme was by Paras Chabbra and Mahira Sharma. This relationship was highly controversial considering Paras had a girlfriend on the outside. The lack romantic performance was Asim Riaz and Himanshi Khurana. They danced on mere Sohneya and it ended with the very significant proposal which Asim did for Himanshi.
What's Will the Top 4 Get?
The Top 4 will get a chance to visit Yas Island Abu Dhabi. They will get a chance to go to amusement parks and the whole expense will be taken by Colors.
Cricketers Bring In Energy and Cricket
Harbhajan Singh and Mohammad Kaif enter the house and bring in alot of joy and dance. All the contestants dance together and enjoy. They are here to promote Road Safety World Series. This will start on the 7th of March to spread awareness on road safety. Both Harbhajan Singh and Mohammad Kaif want Shehnaz Gill to win the show. Harbhajan wishes Shehnaz for her new show 'Mujhse Shaadi Karoge'.
Bigg Boss 13 Top 4
Salman Khan further announces that it is time for the next eviction. He says that whoever is to be eliminated from the Bigg Boss 13 house, a member of their family will enter the house and take them away. Soon a mother enters the house and it is revealed that Arti Singh has been eliminated from the house. Arti hugs her mother and breaks down. Arti is very happy and Salman says that everyone is very proud of her. She has played the game with dignity. Arti huge Siddharth and thanks him for everything. Arti seems to be very confident and is happy to have reached there. Salman Khan then interacts with Arti Singh. Arti and Salman dance onstage. Arti wants Siddharth Shukla to win the trophy. This leaves us with Asim Riaz, Rashami Desai, Siddharth Shukla and Shehnaz Gill as the top 4 contestants of Bigg Boss 13.
Vishal- Madhurima Perform
Vishal Aditya Singh and Madhurima Tuli perform. They give a detailed account of their relationship in the house. It begins with Vishal wishing to find a nice sensible girl but ends up with Madhurima each time. Their performance is entertaining and makes you laugh. It brings back memories of their whole episode during this season including throwing water on each other.
Khatron Ke Khiladi Team Joins Salman Khan Onstage
Rohit Shetty comes onstage to promote Khatron Ke Khiladi along with his contestants Karan Patel, Adaa Khan, Tejaswini Parekh. They tease Paras Chhabra and tell him to come onstage to kiss an animal that they have brought along with him. They enter the house to do a stunt and then Rohit Shetty will bring one contestant along with him.
Rohit Shetty Declares Top 3 of Bigg Boss 13
The Top 4 contestants meet Rohit Shetty. He informs them that he has come to take away one of them and give Bigg Boss 13 its Top 3 contestants. There is a box infront of them and in that box is their fate. First Siddharth Shukla and Shehnaz Gill have to test their fate. Shehnaz is afraid of mice so she freaks out. Siddharth goes in place of Shehnaz and the mice come over his face. The Khatron Ke Khiladi contestants remove the mice from their faces. Further which Asim and Rashami go into the boxes. Shehnaz, Siddharth and Asim are safe. Rohit Shetty will announce that Rashami Desai is out of the race and they leave the house. Bigg Boss 13 finally has its Top 3 in Asim Riaz, Shehnaz Gill and Siddharth Shukla.
Post this Rashami Desai goes onstage to meet Salman Khan. Rashami feels that she expected to come out but she feels good she spent so much time in the house. She feels that she got her clarity in life. Rashami felt that Shehnaz will be out next and she feels that Asim will be the winner.
SidRa Sizzle Onstage
Siddharth Shukla and Rashami Desai perform and show their chemistry to the world. Their sizzling performance grabs the eyes. They reenact dialogues from the season of Bigg Boss 13. The performance demonstrates the love-hate relationship that they share with each other.
SidNaaz's Love Shown One Last Time
The beauty of Siddharth Shukla and Shehnaz Gill's relationship was shown through a performance. They both show their fights, Shehnaz's flips and the love they share between each other. It is most beautifully portrayed and makes you laugh and cry since we won't get to see them again onscreen.
Asim- Siddharth Perform Together
In the performance they both portray warriors who have battled against all odds to reach the stage that they are in right now. It begins with Asim performing and then goes on to Siddharth. They both look determined and menacing in their performances which aptly describes them during the whole season.
Siddharth and Asim Bid Goodbye To The House
Siddharth Shukla and Asim Riaz say their boodbyes to the house and the gates open for them to come out. The two finalists soak in their last moments in the house and leave. Salman Khan welcomes the two final contestants Asim Riaz and Siddharth Shukla onstage. The final moment has arrived as Salman catches both their hands to declare who is the winner and he plays around with both of them.
Siddharth Shukla is declared as the WINNER!!!!