Bigg Boss 13 first week had no elimination as Salman Khan gave them time to settle down. Today being the first day of week 2, 7th October 2019 nomination for eviction has started.
This time eviction nomination is done as a different process where two contestants are made to stand before nomination window while the third contestant who stands down shares whom does he like, these two contestants are given a chance to impress the third contestant but ultimately it's in the hands of third contestant to decide on nomination. Out of 14 contestants five of them who gets maximum number of nominations go to the eviction nomination list.




How Did the First Nominations of Bigg Boss 13 Take Place?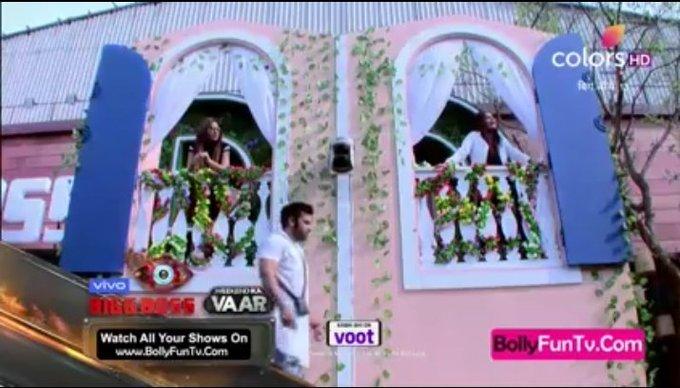 The nominated female contestants were made to stand in pairs in against a window. Paras, Siddharth Shukla, Siddharth Dey, Asim, Abu and Paras decided who should get nominated based on their explanations.
Paras Nominated Shehnaaz Gill
Siddharth Shukla Nominates Rashami Desai and Saves Arti Singh
Siddharth Dey Nominates Dalljiet Kaur and Saves Shefali
Asim and Abu Nominate Koena Mitra and Save Devoleena
Bigg Boss 13 Elimination Voting Results for First Elimination
Who should be saved this week in Bigg Boss 13?
Bigg Boss 13 Online Voting Procedure via Voot.com or Voot App
This voting method is applicable for Indian as well as overseas (UAE, USA, Canada and South Africa) audiences of Bigg Boss 13.
Go to Voot.com from your browser.
Click on the Login button from the top right and login with your Gmail or Facebook account or any other E-mail ID.
After logging in, during the voting window, choose the voting window for Bigg Boss 13 among other Voot or Colors TV shows and click on participants name to cast your vote.
Once the vote is cast, the voter will get an automated message regarding the vote being successfully cast.
If the vote is cast after the online voting window is closed, the vote will be considered to be a legitimate vote for the next voting window which opens on the subsequent Monday at 2330 Hrs.
There will be no charges applicable for the vote casting procedure through any of the Bigg Boss 13 voting procedures.
Irrespective of the number of votes cast by an individual with the same contact details, only 1 vote per person will be considered for the voting process.
Voting Deadline : Thursday 11:30PM
Bigg Boss 13 Online Voting Procedure via myJio App
Download the myJio App on your Android phone from the Google Android Play Store.
Sign up to the my Jio App using your Jio number and create a password.
Once the account is created, you can login to My Jio App.
Click on the 'Bigg Boss 13 Vote' banner.
Click on the relevant contestant's image to cast the vote for them.