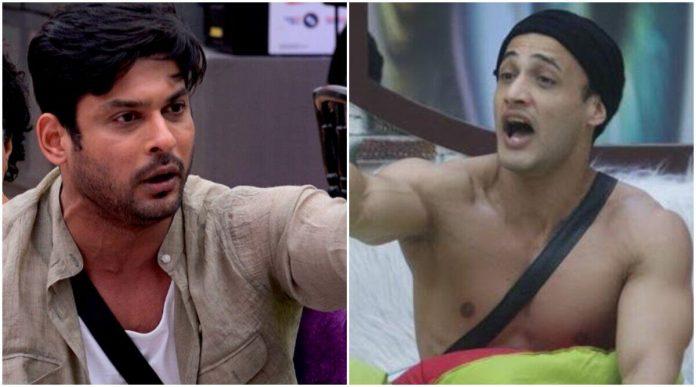 In Bigg Boss 13, the fight that started between Asim Riaz and Sidharth Shukla continued even further. The whole house appeared to be free from this quarrel. But neither Siddharth nor Aseem appeared ready to retreat. In such a situation, both of them were seen using words like dog and favor. During this time, when new groups were seen forming in the house of Bigg Boss, then the old groups were breaking up. Himanshi Khurana and Shefali Bagga appeared together with Aseem, while Siddharth Shukla and Mahira Sharma and Paras Chhabra were seen bonding. With which the entire view of the house has changed at this time. #StayStrongSidharth is trending on social media as Sidharth fans are not happy with Asim's behavior.




Asim Riaz called Siddharth Shukla a dog
The battle that started between Aseem and Siddharth is not taking its name. During this quarrel, Aseem calls Siddhartha a dog, on which Siddharth says in response, your father is a dog. In such a situation, both are once again seen to be physical. During this, Siddharth also kills Asim. Whereas Paras and Vishal are seen removing both.
Look at sid, how he pushed #AsimRiaz frst. He is the one who wants to fight all the time and not asim. #WeStandByAsimRiaz #EvictSidharthShukla pic.twitter.com/2nqpMyeccb

— umar riaz (@realumarriaz) November 20, 2019

Siddharth and Asim's feud is being taken advantage
After the battle of Sidharth and Asim, the whole mathematics of the house has changed. Mahira and Paras are now seen with Siddharth while Aseem is seen discussing the fight with new members Shefali and Himanshi who came to the house. In such a situation, Bhau and Aarti say that the people of this house are now taking advantage of this fight. After which Shefali asks Paras and Mahira not to become Siddhartha's companions.
#BB13 #StayStrongSidharth https://t.co/mihP2op4Av

— Dipali Gupta (@dipalii33) November 21, 2019
Jo insan sahi Dil ka hoga use bhi pata chal jayega Asim ne Sid ko galidi tab Sid ne use kaha Asim kitna jhut Bolta hai dusaro ko loser Bolta hai khud Kya hai jhuta…#StayStrongSidharth

— Tara Yadav (@TaraYad08565691) November 21, 2019
#BB13 #SiddhartShukla #MahiraSharma #StayStrongSidharth
Massla Finally Solved!!!! pic.twitter.com/7dPEcBbxyf

— Aman Upadhyay (@AmanUpa59504263) November 21, 2019

Siddharth targeted Rashmi during task
During the task, Siddharth Shukla compares Rashmi to a liar and a monkey jumping from one tree to another. During this time, 5 quality of Aseem Siddharth is also counted. Whereas between Shefali and Mahira, you are seen to be me.
Paras Chhabra's team won
With the announcement of the end of the task, Bhau, Shahnaz and Rashmi together make Paras Chhabra's team a winner.