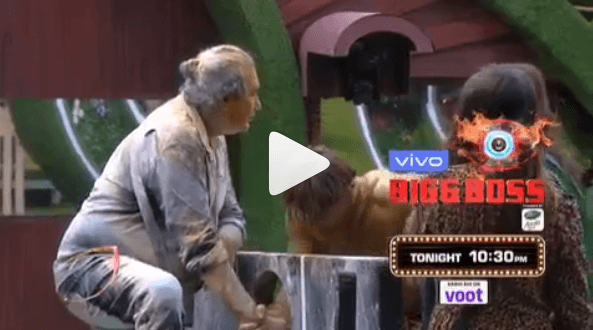 In Bigg Boss 13, one gets to see some explosive twist every day. In the last episode itself, Bigg Boss sentenced the family to jail. After which Sidharth Shukla and Shehnaaz had to face the jail. While there is a problem in Sidharth Shukla jail, the condition of the boys outside is going to be very bad today. This will be due to the elimination task of Bigg Boss, in which boys will be seen struggling badly to protect themselves. We are not saying this, rather the new promo of Bigg Boss 13 is pointing towards this.




In the new promo of Bigg Boss 13, it is clear that Bigg Boss has divided the boys into 2 pairs. In the task, both of them have to sit holding each other's hands. The pair whose hands are separated will be chosen to be eliminated. That is the reason, in the promo, Chhabra (Paras Chhabra) is seen performing the task by pairing with Siddharth Dey and Aseem Riaz with Abu Malik. At the same time girls are using different methods to remove these boys.
In the task, chilli is being poured on the boys and sometimes turmeric is being applied to them. Being disturbed by this torture, Asim Riaz is seen shouting loudly that, no matter what they does, he will not leave Abu Malik's hand. At the same time, Shehnaaz is also seen to show her enmity with Paras Chhabra under the guise of Task. Shehnaz is seen saying in the promo that this is a game and we will have to play it. After hearing this, Paras Chhabra is also saying that, even now I am not going to get up from this chair.
See the new promo of Bigg Boss 13-
https://www.instagram.com/p/B3vz6u9AB07/?utm_source=ig_embed&utm_campaign=embed_video_watch_again
Seeing the promo of Bigg Boss 13, it would not be wrong to say that the elimination task is going to be quite exciting. Now, when all the boys agree to leave their chair, then who will be eliminated? Anyway, to find out what is going to happen in the next episode, one has to wait for the upcoming episode. In such a situation, tell us how excited you are to see the new episode of Bigg Boss 13.