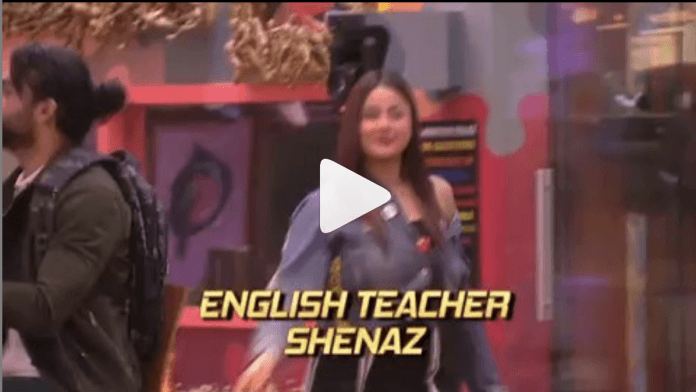 Bigg Boss 13 has entered week 9 and Himanshi is the captain for this week. But captaincy for week 10 is announced now and the Captaincy task is title as "BB College". According to the task four contestants are appointed as teachers and at each lecture they give an apple to the best student (rest of the contestants) and the person who wins maximum number of apple will win captaincy for week 10. These contestants are the teachers for BB College task:




Sidharth Shukla
Sehnaaz Gill
Himanshi Khurana
Hindustani Bhau
It must be noted that these apples should be kept in locker room of the students and they had to guard it from others stealing it. Sidharth will be the dance teacher, Vishal and Arti Singh dances as Sidharth gets impressed by their performance. Hindustani Bhau teaches dialogue, Mahira recites Salman Khan's Dabangg dialogue "Saas kaha se le aur" and Shefali recites "Bade bade desho m senorita". Himanshi Khurana is the Physical Training teacher while Shehnaaz acts as a hot teacher.
There is a big fight between Shehnaaz Gill and Asim as Shehnaaz refers Asim as a loser and negative person. Shehnaaz Gill was impressed by Vishal's performance and gives him an apple which he keeps in the locker room. Asim steals the apple from Vishal's locker. Also there is a big argument and fight between Himanshi Bhau and Vishal during the task.
Whom do you think will win more apples and win captaincy task. Comment below.
Also make sure to vote for your favourite Bigg Boss 13 contestant for this week's eviction.
Bigg Boss 13 Voting Online Week 9
Voting through Voot App – You can install Voot app from Play Store or Apple Store and search for Bigg Boss 13. There is a voting banner and login and vote for your favourite contestant
Voting through MyJio App – Use MyJio app and vote for your favourite contestant by clicking on Bigg Boss 13 voting banner
You can vote at our voting poll to get instant results about your favourite contestants




Vote for your favourite contestants