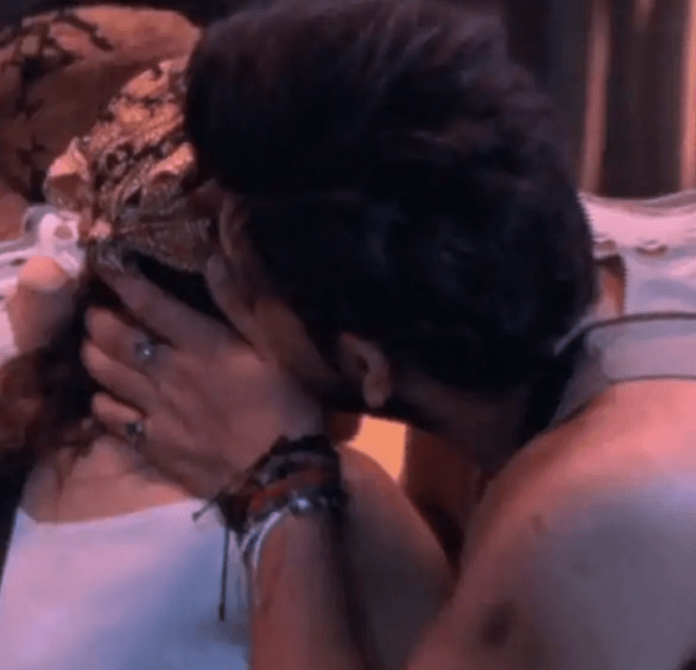 In the last episode of Bigg Boss 13, Mahira Sharma and Paras Chhabra were seen kissing each other. During this time, Paras also expressed his love for Mahira. That is the reason, since this kiss, Paras Chhabra has come on the target of people. Now everyone knows that Paras Chhabra has a girlfriend outside Bigg Boss house too. On the other hand, Shahnaz Gill also likes Paras a lot. Shahnaz has also announced in front of everyone on TV that she loves Paras.




Ignoring these two things, Paras Chhabra is seen walking behind Mahira Sharma only. In the past too, Paras Chhabra had kissed Mahira. Even after this, Paras Chhabra did not feel filled. That is why now in the last episode, Paras Chhabra has expressed his love by kissing Mahira Sharma. The fans do not like this special style of Paras Chhabra. This is the reason, people are constantly being talked about and making fun of Paras Chhabra on social media.
One user wrote while talking about Paras Chhabra's kiss, everyone here is engaged in playing games and Paras has got his love story. You can do this work even outside the house. Another user wrote, Mahira has always had trouble with Shahnaz. By kissing Mahira, Paras proved that he is playing the game by making Mahira and Shehnaz a master card.
Not only this, a user even wrote that Paras is playing dirty games with great confidence. He probably has no idea that his girlfriend Akansha Puri is watching all this. Paras Chhabra is going to have shoes as soon as he goes out of the house.
See such fun comments from people-
I hate hate that things are gonna get weird between Paras and Mahira now because of Sana. There isn't even a love triangle here, it's just Sana has a crush on him and the feelings aren't returned. I just wish she can control herself a bit.#BB13 #BiggBoss13 #Ep57 #ParasChhabra

— ru⁷ (@RuksarCreations) December 19, 2019
akansha puri ki insta story dekho.. #Paras jitna confidence chaiye zindagi mein .. Paras jo dirty game khel raha bahr ja k joote hi khaane usne…#SidharthShukla #AsimRiaz #ShehnaazGill #MahiraSharma
#SidNaaz

— Starillicious ✨ (@SairaTabasum18) December 19, 2019
Mahaul kaafi romantic hogaya hai #ParasChhabra aur #MahiraSharma ke beech mein 😍@vivo_india @BeingSalmanKhan #BB13 #BiggBoss13

— ColorsTV (@ColorsTV) December 18, 2019
#MahiraSharma has issues why #ParasChhabra kissing her, but the she is still sticking to him!! Uff!! Double Standards are so IN!! #BiggBoss13 #BiggBoss #ColorsTV #SalmanKhan #BB13

— BiggBoss 15🔰 (@13Biggboss) December 19, 2019

https://twitter.com/Evie82981087/status/1207424575413243905?s=20
https://twitter.com/manj82/status/1207421178253582336?s=20
What do you think of Paras and Mahira's bond?

Paras Chhabra Mahira Sharma @BiggBoss @ColorsTV #ParasChhabra #MahiraSharma #BiggBoss #COLORSTV #tellychakkarhttps://t.co/qvuTa0nQMy

— Tellychakkar.com (@tellychakkar) December 18, 2019

It is clear from the comments of the people that, everyone understands the game of Paras Chhabra. This is the reason, now people are fiercely applying Paras Chhabra. In such a situation, it will be interesting to see how far this love of Paras Chhabra and Mahira Sharma will go in the coming episodes. However, how much do you agree with the people, please comment and tell.