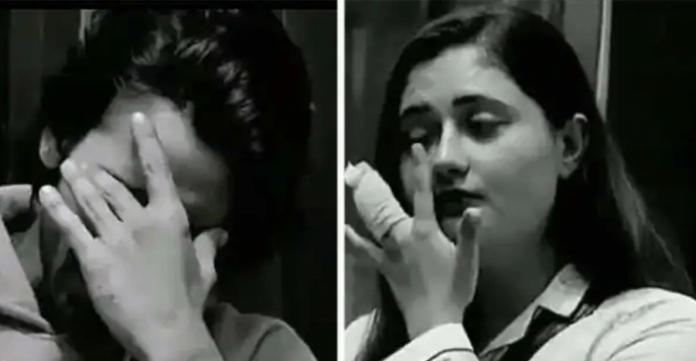 Ever since Rashami Desai has again entered Bigg Boss 13, Hasina of TV has been making a lot of headlines in the house. Rashami Desai is getting heard a lot due to Siddharth Shukla, sometimes because of Arhaan Khan. It is not long when Salman Khan revealed the truth of Arhaan Khan to Rashami Desai. Earlier, Rashami Desai did not know that Arhaan Khan is married and also the father of a child. Sid's target for the last few days is only on Rashami Desai. That's why Siddharth Shukla, while arguing in the last episode, had started talking about the past incidents with Rashami Desai. Everyone was quite shocked when Siddharth Shukla told that, Rashmi Desai followed him to Goa.




It seems that now Rashami Desai has broken badly due to the charges leveled against herself. That is why even after wishing she is not able to stop herself from crying. We are not saying this, rather the new promo of Bigg Boss 13 is proof of this. In the new promo of Bigg Boss 13, Rashami Desai is seen sitting in confession room with Arhaan Khan.
Rashmi Desai is seen crying bitterly in the confession room while Arhan Khan is trying to silence her. Rashmi Desai is crying, saying that whatever is happening is not going right. What do i do now I am feeling very tired. I'm tired now, I want to go from here.
See Bigg Boss 13 promo-
https://www.instagram.com/p/B6t_DTenYTv/?utm_source=ig_embed
Hearing this talk of Rashmi Desai, Arhaan Khan embraces her and explains her. Seeing the promo, it is clear that Rashmi Desai is very upset with the happenings in the house. In such a situation, more drama can be seen in the coming episodes. However, please comment on how eager you are to see the new episode of Bigg Boss 13.