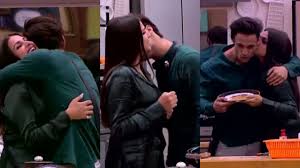 Family special week is going on in Bigg Boss 13 house this week on 29th January 2020. During this time, many people have entered the entry of Bigg Boss house to support the contestants. Meanwhile, Asim Riaz has proclaimed his love to propose to Himanshi Khurana for marriage. At the same time, Kashmiri Shah has entered the house of Bigg Boss to support Aarti Singh. With this, Devoleena has gone to the house for contestant Rashmi Desai. Then there was the mastermind Vikas Gupta (Vikas Gupta) who appeared to support dear friend Siddharth Shukla. Well let me tell you, this will be the third time when Vikas Gupta has appeared in Bigg Boss house.




After the entry in the house, Vikas Gupta (Vikas Gupta) appeared to reveal about Shehnaaz Gill's love life. In the Bigg Boss house, Vikas speaks to Shahnaz and says, 'Look, love is going on there, someone is going mad outside too. Everyone here has his own secret here. After this, Vikas Gupta tells Shahnaz Gill that 'Aseem Riyaz has a girlfriend outside the house. Inside the house, he is in a flirtation with Himanshi Khurana. After this, on hearing all these things of development, Shahnaz Gill gets shocked and says that what is happening in this house?
After disclosing the love life of Asim Riaz, Vikas is asking Shahnaz why she was so depressed for the last one week. He said that a fight was going on between Siddharth and him, to which Vikas said that it is he who keeps fighting with him. Then we see Vikas and Shahnaz discussing the game. Well, after all these things, it has become clear that there is definitely something blossoming in the mind of development, now it will be really interesting to see what games they play next.