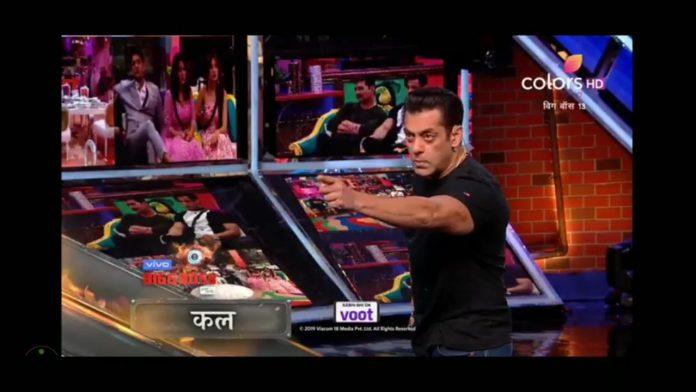 Now everyone knows that, when Salman Khan gets angry, the person in front of him gets abused a lot and he takes class for them. If we talk about Bigg Boss 13, then Salman Khan angrily lashes out at the members of the house. Something similar is going to be seen in today's episode of Bigg Boss 13 26th January 2020. Where Salman Khan and Siddharth Shukla are going to have a fierce argument. We are not saying this, rather, the promo of Bigg Boss 13 is proof of this. Recently, the makers have shared a new promo of Bigg Boss 13.




In this promo, Salman Khan (Salman Khan) and Asim Riaz and Sidharth Shukla are disturbed by childish antics. This is the reason, in the promo, Salman Khan has threatened both of them. Actually, in the promo, Siddharth Shukla and Asim are seen arguing among themselves instead of listening to Salman Khan.
Seeing this act of these two, Salman Khan tried to silence Siddharth Shukla (Sidharth Shukla) and Aseem. That matter is different, both of them continued their debate instead of listening. Seeing this action, Salman Khan's mercury rose on the seventh sky.
That's why in the promo, Salman Khan is seen saying that, according to the rules of the house, you cannot raise your hands on anyone. No such rules apply outside of Bigg Boss 13. I am opening the door of the house.
Further Salman Khan is seen saying angrily that, I am spewing so much poison, I kick both of you out. Come outside the house kill each other and come back. If you have the courage, show it by doing work. After which Siddharth (Sidharth Shukla) asks Shukla Asim (Asim Riaz) to go out.
See Bigg Boss 13 promo-
https://www.instagram.com/p/B7tqhCYB7qY/?utm_source=ig_embed
Seeing this promo of Bigg Boss 13, it will not be wrong to say that, in today's episode, some ruckus is going to be seen. In such a situation, tell us how eager you are to watch the upcoming episode of Bigg Boss 13.