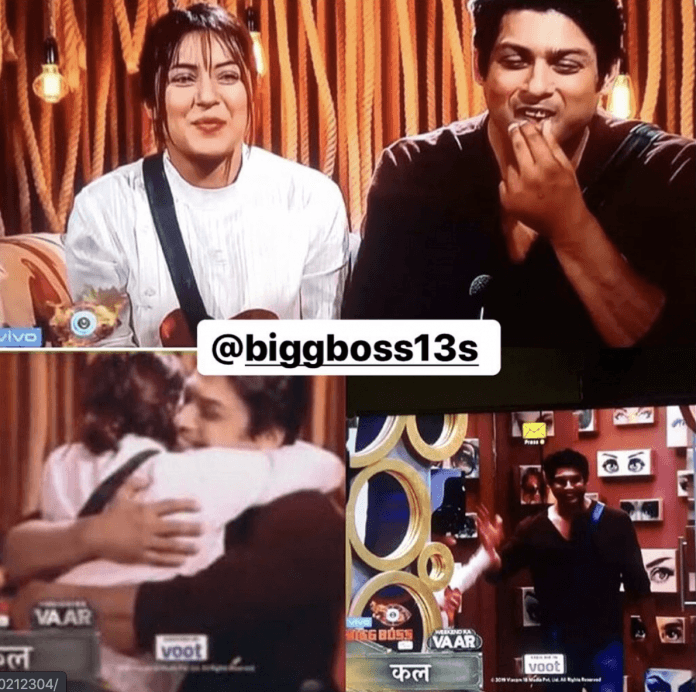 After the Weekend Ka Vaar we are back for the 12th Week of Bigg Boss 13. It's Monday 16th December 2019 and a happy day for Sidharth Shukla and Sidnaaz fans. Shehnaz Gill is called inside confession room by Bigg Boss. She goes inside in a panicky way but shocked to see Sidharth Shukla. Sidharth Shukla looks healthier and fit, hugs Shehnaaz. She is very happy to see her best friend back in good health and inside Bigg Boss house. Bigg Boss ask them to get back into the house.




Everyone is happy to see Sidharth Shukla, he gets a hug from Paras and Mahira. Even Asim Riaz his former best friend and now a rival gives him a friendly hug. Shehnaaz Gill asks if people outside are loving her and Sidharth says they are adoring you. Shehnaz then says I am going to win Bigg Boss.
Everything looks good until the nomination process starts. Sidharth Shukla is already nominated for this week's eviction. In the nomination process each contestant has to break a pot on the person whom they wish to nominate. Vishal nominated Madhurima by breaking a pot on her head. Arhaan nominates Paras Chhabra by doing the same. Who else you think will get nominated this week? Are you happy with Sidharth Shukla's re-entry? Comment below.
Bigg Boss 13 Voting Online Week 12
Voting through Voot App – You can install Voot app from Play Store or Apple Store and search for Bigg Boss 13. There is a voting banner and login and vote for your favourite contestant
Voting through MyJio App – Use MyJio app and vote for your favourite contestant by clicking on Bigg Boss 13 voting banner
Vote online in Voot website – https://www.voot.com/bigg-boss/bigg-boss-season-13/bigg-boss-13-voting-online/
You can vote at our voting poll to get instant results about your favourite contestants




Vote for your favourite contestant