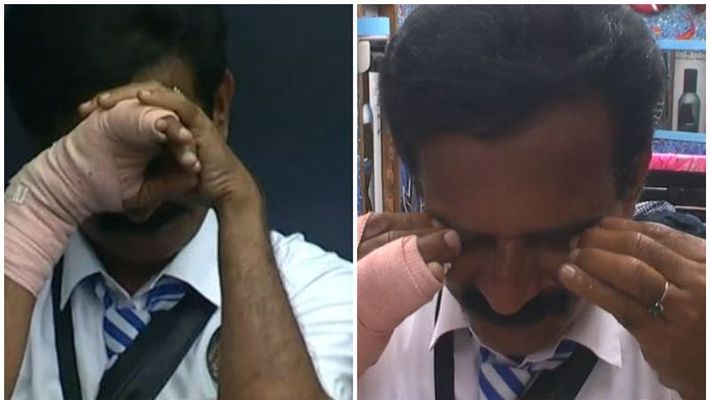 Bigg Boss Malayalam 2 had a shocking incident yesterday 10th March with RajithKumar evicted from Bigg Boss house for breaking Bigg Boss rules. He applied chilli on Reshma's eyes as a part of the task but Bigg Boss took it as offence against fellow contestant and removed him from Bigg Boss house.




School and students are the task today. Arya became the main teacher. Fukru became a Politics Teacher. Sujo became a Moral Science teacher. Daya Aswati meets a teacher who teaches life lessons. Others with students. They were asked to be naughty students. Even before the class starts, the children start developing nuances.
The photo of the teachers was painted by Abrami, Amrita and Reshma on the board. In the assembly, Arya asked who the photo was. Reshma and others said they were registered. Fukru discovered that the photo was taken by Abhirami and his team. Then the class started and Fukru took the class. It was in the meantime that Rajith Kumar rubbed chilli in Reshma's. In the incident, Fukru punished Rajith in class.
Rajith Kumar was stopped by the Fukru wall. Despite the end of the sentence, Regit was still there. But Fukru was brought up. Rajith said he felt guilty. Rajith said it was not right to do so. But Arya said that atonement is a big thing. In the end, everyone was convinced. It was only after that that Rajith went to wash his face. Rajith Kumar was saying sorry while washing his face. The task is meant to be disobedient because it is a school of idiocy. He is expertly trying to become the best of the worst. This is done to show the most disadvantaged in the class of the most vulnerable.
Rajith also said sorry to Bigg Boss. He has not done anything deliberately. Trying to be the most disobedient of the naughty children. The child was called a thief because he was a thief, Rajith said. Rejith Kumar's eyes widened slightly as he washed his face. Arya asked, now looking at her eyes. When Arya asked if there was any slight smoke, Rajith said. After a while Bigg Boss informs us that the task has been paused. Bigg Boss asked Shaji to come into the room with Rajith. As he walked into the room, Rajith told him about the incident. Shahji said that he could understand that Rajith was trying to be real. Shaji said that Rajith could have gone heavier but he was not. He said that he tried to make a task after taking only a small amount of chilli. Rajith said very little was done to the corner of the eye. Rajith said he had just made one. Shaji said, "I understand it."
Others debated whether the eviction was correct. Most respondents said that the work done by Rajith Kumar was never justified. Raghu said he could not stand with Rajith. Amrita also said that Rajith's actions were not proper. Alessandra also said that it is impossible to agree if what one says and the other does not. Abhirami also said that Rajith action is not proper.
Bigg Boss, meanwhile, said the Rajith's action was unacceptable. Big Boss also said that Rajith is being evicted. Rajith thanked Bigg Boss. Bigg Boss asked Reg to come out the door on the left. Bigg Boss also saw Rajith go out.
Vote to save your favourite contestant