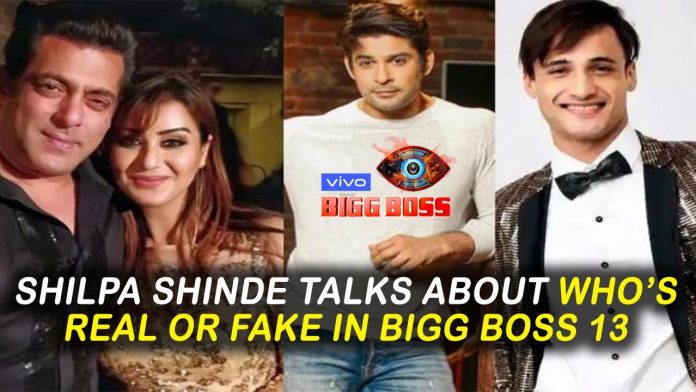 Shilpa Shinde has been in the Big Boss house and won the title in Big Boss 11. She is an ardent follower of the show and since this season has been grabbing eyeballs it is obviously under her radar. She is very vocal about her views and has time and again come forward to give her take on the Asim Riaz- Sidharth Shukla strong of fights that occur.




What does Shilpa feel?
She personally feels that the channel might have a bias towards Sidharth Shukla, this opinion has been doing the rounds for a while now. The netizens have been divided into two sectors pro-Asim and pro-Sidharth. Shilpa comes under pro-Asim. She feels that Asim had no fault in the happenings of the fight and he was merely dragged into it. He didn't do anything that was his fault and yet Sidharth dragged him and his family into the fight. He even brought in Asim's father and said it out loud that his father had thrown him out of the house. When the two were inside the confession room, and they were called in twice! Sidharth was being cared for and explained by Big Boss while Asim was not even given the chance to talk for himself.
Shilpa is of the opinion that Sidharth is jealous of Asim and that was shown through his behavior in the fight. He seems to be portraying an ugly side to his personality. She feels that he behaves well as long as things are in his stride but once the situation turns against him then his aggression makes an appearance. She even feels that there is a possibility that he could have beaten Asim but the channel who are in favor of him has not shown this on air.
Are these claims real?
Shilpa has even gone on record to question whether he really had typhoid or not. He receives food from out which did not go well with Shilpa. She questions the fact that Sidharth had typhoid for which he was brought out of the house but he still returned whereas Devoleena who had a spinal injury did not return.
From her opinion it is clear that she would want Asim to be the winner. She feels he is an entertainer, is vocal and moreover is real. She has even threatened that if Sidharth is made the winner then she will bring out personal matters and expose him.
This week we saw Sidharth Shukla and Asim Riaz at loggerheads yet again. But for the first time we have seen Sidharth break down and ask to quit the show.
https://www.instagram.com/p/B7lIs37gNcV/