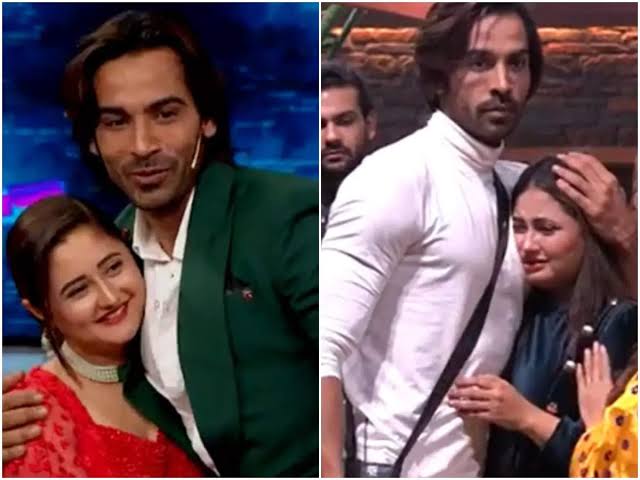 Big Boss 13 saw the ups and downs of a relationship from the forefront. Arhaan Khan and Rashami Desai have been in the headlines for every aspect of their relationship that has been broadcasted in the last four months. Arhaan had entered the house as a wildcard contestant and proposed to Rashami on national television. Rashami in return accepted. However, last night when Rashami met her best friend Devoleena Bhattacharjee, she revealed details that have put their relationship in question.




https://www.instagram.com/p/B68qE1DhQnD/
What went down?
Devoleena re-entered the house as Rashami's connection this week. She and Rashami had sat down for a chat when latter revealed to her that "Arhaan is not her type" and that she needed time and space to think things through.
Arhaan reportedly commented that Rashami has not openly admitted that she has ended their relationship. No one should assume what their relationship status currently is since they themselves need to talk to one another about it. They decided not to talk about certain matters in the house and make their relationship a nationwide issue rather they will deal with things maturely once she comes out of the house. He has full faith in his relationship that it is not fragile and can stand through testing waters. He says that Rashami proved how strong their bond is when she broke down during his elimination.
https://www.instagram.com/p/B62eEC7gZUT/
Arhaan is also very pleased with how Rashami is playing the game and is constantly ledning his support to her over social media. He says that this is how she should be playing and it wasn't expected that she would be morose over his elimination. He is also happy that Rashami and Sidharth Shukla aren't fighting unnecessarily and maintaining a cordial relationship.
Their relationship went downhill when Salman Khan revealed that Arhaan was married and had a kid on national television. However, Rashami had forgiven him and continued their relationship despite people's repeated attempts to show her the larger picture.