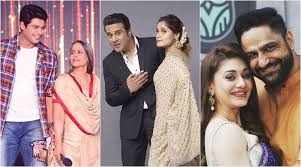 Ever since the news of Big Boss being extended was brought into the forefront, the makers have tried to add various kinds of twists and turns that would make the season all the more entertaining. Currently, it is abuzz that family members of the contestants will be entering the house to stay with them. It is expected that the episode will take place between January 27 to January 31. The family and friends will be playing as the 'jodidar' of the contestants.
This last occurred during Season 11 of Big Boss. Therein the family and friends of contestants Hina Khan, Shilpa Shinde, Vikas Gupta and Akash Dadlani visited and stayed on the premises. Unlike the previous time where the family members were in a different part of the house which was unknown to the contestants, this time will be different.
Big Boss 13: Which Family Members will be Staying?
Mahira Sharma brother Akash Sharma
https://www.instagram.com/p/Bm71of3ggO6/
Mahira's mother Saina recently told her how she is being portrayed outside and what should be done for her to bring out her strong personality. With her brother in the house it will be a new side of Mahira that will come out sans Paras.
Shehnaaz Gill brother Shehbaz Badesha
https://www.instagram.com/p/B7eCtyoFf77/
Shehnaaz Gill's brother Shehbaz will most likely enter the house. Shehnaaz find her brother's opinion very important and this was seen during family week. It will be a new facet of Shehnaaz's personality to see her listen to someone she looks upto.
Arti Singh sister in law Kashmera Shah
https://www.instagram.com/p/B5XU8W3Hp_k/
Kashmera is the wife of Krushna Abhishek, Arti's brother. Kashmera has said in interviews that she has alot to say to Arti, it will be interesting to see the turn of events and change in Arti's post Kashmera's entry into the house.
Shefali Jariwali husband Parag Tyagi
https://www.instagram.com/p/B4-HeBHhcF_/
Parag will make his way into Big Boss for the third time into the house. He was seen during family week bringing up outside matters and his continuous presence in the house might stir up more.
Sidharth Shukla mother Rita Shukla
https://www.instagram.com/p/B7c1PB4JLaO/
Sidharth clearly dotes on his mother and listens to her every word. Post her arrival during family week he has taken it upon himself to abide by what she said. Her presence in the house will keep his aggression in check and bring out more of his humorous side.
Vishal Aditya Singh bother Kunal
Vishal was unable to meet his family during family week due to his punishment. His brother will be a fresh set of eyes for him, bringing a whole new perspective of what has happened and what changed since Madhurima's exit.
Asim Riaz brother Umar Riaz or Himanshi Khurana
https://www.instagram.com/p/B52ZNcWJQB2/
Asim's brother Umar entered the house during family week and showed Asim how immensely popular he has become. Umar's presence in the house might make Asim more entertaining. While on the other hand if ex-contestant Himanshi Khurana enters the house, their love story will come to light and add to the romantic element of the show.
Considering Paras Chhabra's current relationship status with Akanksha Puri it is rumoured that she will come into the house to break up with him on national television. Her presence is not yet confirmed. Even who will be entering for Rashami Desai is unsure, it could be her mother or brother that will make their presence felt.