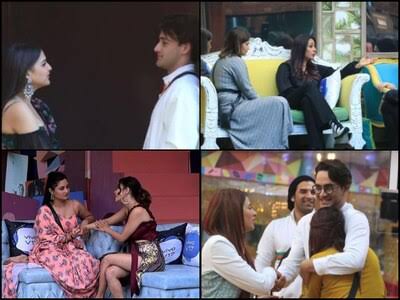 Big Boss 13 has seen a variety of episodes take place within the house. This week there are emotions overflowing with the contestants connections entering the house. It is treat to watch their faces brighten up after weeks of turmoil and frustration.
https://www.instagram.com/p/B75c6uHAPmB/
Shefali Re-Enters Amidst Mixed Reactions
Post a few connections entering the house, last night we saw recently evicted Shefali Jariwala entering the house again as Paras' connection. Mahira is beyond pleased to see her again and runs upto her and embraces her. But during all this it is pretty evident that Shehnaaz is not at all happy about Shefali's re-entry.
Asim has been dreading Shefali's entry and they both share sarcastic fun banter with one another. Shefali continues teasing Asim the way she used to earlier but doesn't get the expected reaction from Asim. Shefali continues pestering him and tells him that Parag is waiting to meet him during the finale as he misses him, her work drip with taunts and sarcasm. Himanshi acts as a mediator as she does not like what is going on and brings it to a stop. Shefali hug Sidharth and this does not go down well with Shehnaaz. She is very bothered and starts and unnecessary argument with Sidharth.
Reunion of SidVik
The next connection soon makes an entry and it is none other than Vikas Gupta. Vikas has entered as Sidharth's connection. Vikas goes on to make a shocking revelation that Asim already has a girlfriend on the outside and advises him to first end that relationship before getting into a new one.
https://www.instagram.com/p/B75kMgLgAtV/
Vikas and Himanshi are in a fun mood and decide to play a prank on Asim. They tell him that They had met for dinner outside and had a great time. On hearing this Asim is furious. Shefali adds fuel to this already burning fire and says that they even had a hashtag that was trending. Asim confront Vikas and Himanshi and shows his distaste on this prank and says that he does not appreciate that they were playing with his emotions knowing what kind of person he is. He also says that it is both Vikas and Himanshi's fault that this argument was happening.
https://www.instagram.com/p/B751ejpgoQx/
Next came the Vivo V17 task which brought alot of laughs in the house. The contestants had to recreate dialogues of their co-contestants and capture this in the form of a video on the phone. While Mahira and Paras recreate a conversation between Sidharth and Shehnaaz, Shehnaaz returns the favour by recreating Paras and Mahira's conversation with Vishal. Rashami and Sidharth recreate the iconic pan on the bum scene of Vishal and Madhurima. Shehnaaz goes on to give independent Arti Singh's game a flirty twist.
It's In The Family… Shehbaaz and Shehnaaz
The suspense comes to an end with Big Boss revealing Shehnaaz and Vishal's connections. When Shehnaaz hears that her brother Shehbaaz is entering the house she cannot control herself. She jumps in joy. Shehbaaz enters the house with a cake in hand to celebrate Shahnaaz's birthday. The whole house gathers to celebrate it. Shehbaaz then warns Sidharth and Shehnaaz that Paras and Mahira are trying to break their bond.
https://www.instagram.com/p/B75JXs8AOz8/
Vishal's younger brother Kunal enters the house. The love and respect between the two brothers is clearly reflected. Kunal gets emotional on seeing his brother. Kunal warns Vishal about Mahira and says that she is out to get him. Shehbaaz has his sister's entertainment streak and begins to entertain the house by imitating Paras. After all the connections enter the house it is announced since maximum of the connections chose Sidharth Shukla as the interim captain, he would now be the captain of the house.