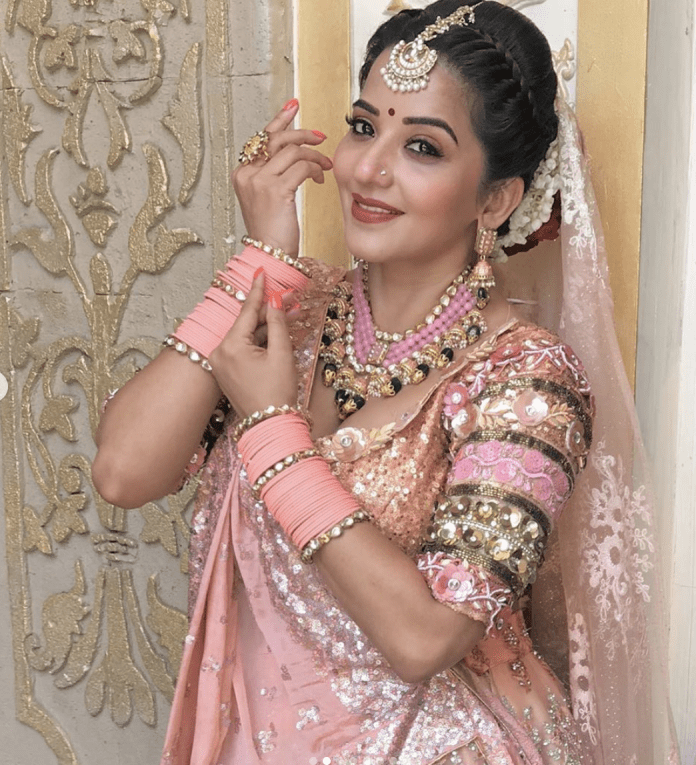 Hot actress Monalisa of Bhojpuri knows how to win people's hearts not only with her glamor but also with her beauty. This is the reason why Monalisa's Hot Look is liked to win, her Indian look is equally loved by the fans. That's why Monalisa keeps sharing photos of every getup and look on her social media page. In such a situation, Monalisa has now shared another photo in which Monalisa's beauty and simplicity are being seen. In this picture, Monalisa is seen in a bride's getup.


Actually, this look of Monalisa is for the scene of her show Nazar. Mohana is going to be married in the show. Due to which Monalisa has taken the avatar of this bride. In this light pink color dress, Bhojpuri is becoming beautiful after seeing the beauty of Hasina. Monalisa has shared photos in three different poses one after the other.
https://www.instagram.com/p/B5ChkT8lLaO/?utm_source=ig_embed
Let us tell you that Monalisa is playing the role of a beautiful witch in the show. His character is getting a lot of love from people. Meanwhile, Monalisa is going to do another new show named Apna News. These days promos of these shows are becoming quite popular. This Monalisa, which is going to be held on Saturday and Sunday, will also get a glimpse.