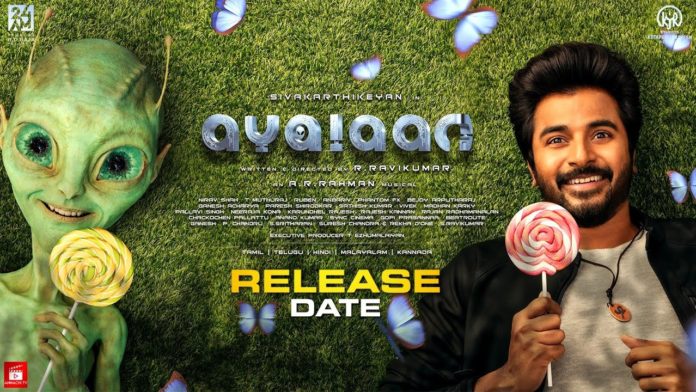 Ayalaan is an upcoming film directed by Ravi Kumar, the director of "Today and Yesterday." The film stars actor Sivakarthikeyan as the protagonist. Thus the reception for the film is increasing among the fans. Sivakarthikeyan is paired with young actress Rakul Preet Singh as the heroine. Apart from these, actors like Karunakaran and Yogi Babu also play important roles. Music director AR Rahman has composed the music for the film.
Filming of the movie, which was halted due to the pandemic, is currently in full swing after the relaxation. The film crew has said that the shooting is over now after intensifying the last 2 months. But it looks like it will take ten months to complete the graphics work for the film.
Filming for this science fiction film is currently over. So the crew is cutting the cake and celebrating. There is an alien in the cake prepared for that, and the alien is holding a lollipop in his hand. It is also designed as the Ayalaan Shoot wrap-up. Netizens are currently virtualizing the photo taken during the celebration with the hashtag #Ayalaan. The film is also expected to release next Christmas.
It's a WRAP for #Ayalaan 🥳 This film has been the greatest experience for us & we cannot wait for you to experience the grandeur & graphic extravaganza it has in store! This one's going to be unlike anything you've ever seen before! 👽💥#AyalaanWrapUp @Siva_Kartikeyan pic.twitter.com/KjctpfYbED

— KJR Studios (@kjr_studios) January 24, 2021