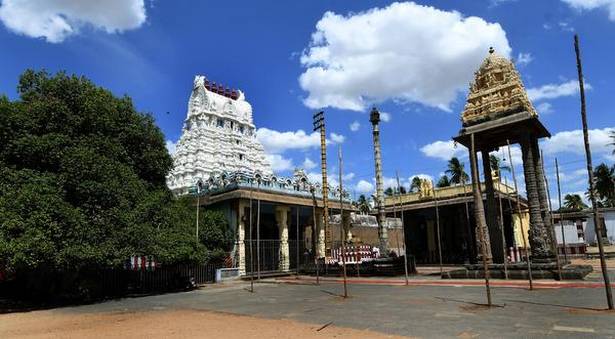 How to Book Athi Varadar tickets online – A Step by Step guide.
Athi Varadhar Sahasra Nama Archanai Online Booking (Rs. 500 Ticket) – Information on how to book the ticket is updated here.
Athi Varadar Special Darshan Online Booking (Rs. 300 Ticket) – Information on booking that ticket is updated here.
Athi Varadar Daily Crowd Status – An Exclusive TNC report.
Athi Varadar's darshan is considered to be very auspicious and special as it happens once in 40 years. It is a once in a lifetime event for most of the Hindu people in India. The Varadharajan temple is located in Kanchipuram, Tamil Nadu.
What's the Significance of Athi Varadar?
A quora user named Kamatchi Ulagappan explains:-
"Athivaradhar is actually a nine-feet long idol, made out of the divine fig tree, botanically identified as Ficus Racemosa Linn falling under the Moraceae family. According to legend, Goddess Saraswathi had a misunderstanding with her husband Brahma and in a fit of anger took away his divine wand to retrieve which he performed the Aswamedha yagna in the Athi forest (Fig forest), now Kanchipuram. Aided by the Asuras, the demons, Sarawati runs as the Vegavathi river and tries to interrupt the Yagna, when Vishnu emerges from the holy fire as Athivaradhar. Saraswati is pacified and the yagna continues. Viswakarma carves out a body for Athivaradar using a fig tree and He then agrees to stay in Kanchipuram atop the Elephant Hill.
July 1-August 15: Daily 5 a.m.-5 p.m. Up to 8 p.m. on special days. Free entry and ₹50 entry through East Rajagopuram. Online booking of ₹500 for special darshan and Sahasranama archana, from July 4 through website: www.tnhrce.org. Entry through West Gopuram
"For those who refuse to get involved in the culture and traditions of the soil, Athivaradar might just be a wooden idol lying beneath the water which is taken out every forty years for worship. It is all just so simple at face value but looking at the sensation his emergence is causing, one can realise Athivaradar's incredible power to make us nostalgic for earlier eras we never grew up in. Of course, the works of Azhwars and Acharyas of Sri Vaishnavism are silent about Athivaradhar, confirming the belief that the idol must have been kept under water considering the prevailing political situation then. There is also another theory that the idol was damaged and hence kept under water since Agamas do not permit the worship of a damaged idol!''
Akkarakani Srinidhi, Vaishnavite scholar residing near the temple, says: "Whether Athivaradar was kept under water as part of the rituals or was it owing to threats from continued invasions, is a million dollar question, but the ritual has come to stay.''
Source: The Hindu – June 27, 2019 (Weblink: Retrieval of Kanchi Athivaradar: a deity's tryst with history)