We at TheNewsCrunch are covering Athi Varadhar darshan news exclusively with daily updates. Government of Tamil Nadu are making some special arrangements to manage crowd better and to make darshan experience better for devotees. We're daily getting questions in our comment section about special queue for physically challenged and senior citizens. Yes there is a special queue at East Mada Veedhi for physically challenged, senior citizens and parents with infants but there are no proper signs directing them to over there. You can ask for East Mada Veedhi (Kizhaku Mada Veedhi) and join that queue for a quick darshan. There are around 1500 wheel chairs to facilitate people who cannot walk, also the government has made arrangements with battery cars and share autos to drop people at these queues.




For those standing in free Darshan queues government has made seating arrangements in between to facilitate those who cannot stand for long hours. Here is an image of seating arrangement (Courtesy – Ganesh Raghav)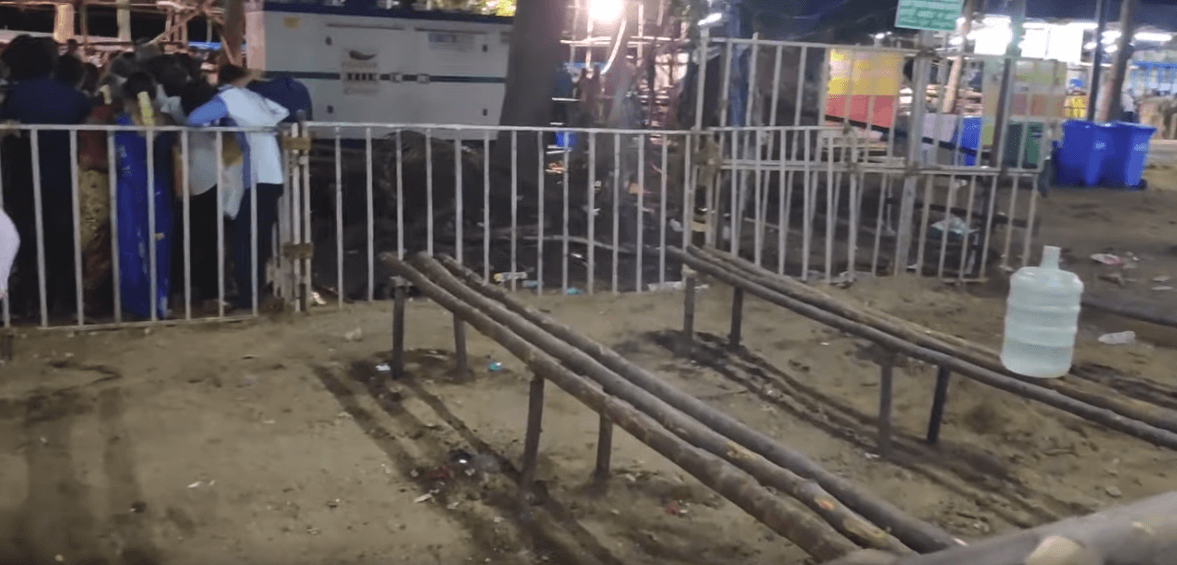 How to Book Athi Varadar Tickets Online – Rs 500 and Rs 300 Tickets
We get around 50 comments daily on booking special darshan and arthi seva tickets online. The website to book these tickets are linked below
Athivaradhar 500 Rs Ticket – Sahasranama Booking Online
Athivaradhar 300 Rs Ticket – Special Darshan Ticket
Total number of tickets for 500 Rs. Darshan is 500. 250 in the morning and 250 in the evening. Booking starts at 10 am at the above mentioned website.
Total number of tickets for 300 Rs. Darshan is 2000. Darshan starts in the evening at 6pm. Booking starts at 11am at the above mentioned website.
Whoever booked are expected to be at West Gopuram around half an hour early from the above mentioned time on their tickets.
Aadhar card is mandatory for darshan
There are no locker rooms or cloak rooms, so pack light for your darshan.
There are no proper arrangements for you footwear so leave them at your risk or leave them in your vehicles
Car Park is at Pachayyappa college, you can take an auto from there to West Gopuram.
It's possible to book for four members only at one time
All Children below 12 years needn't be included in the members list
Keep the name, sex, age and aadhar number of all 4 individuals ready
If the payment is successful but didn't get e-ticket, then you can download them from verify e-payment option or from this link provided here.
If online payment has been unsuccessful for a particular Aadhar number, through ePayment – Verify option the devotee needs to verify the earlier transactions with bank site by selection of option and then try to proceed to book the e-ticket for the particular Aadhar number
It may be noted that for one Aadhar number, only one booking is allowed. If on verification the status returned failure, booking for the same Aadhar number can be made
The ePayment – Verify option should not be used for fresh booking.