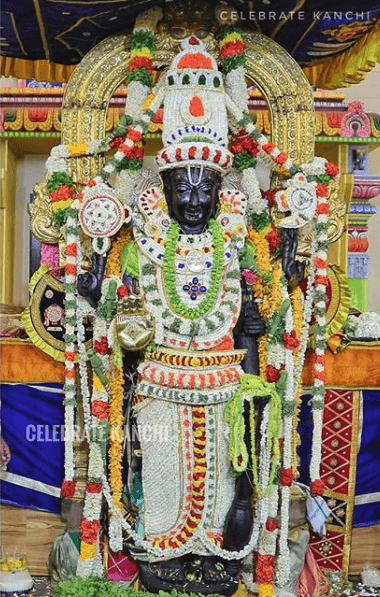 Today marks the Day 46 of Athi Varadar festival and this being Independence Day and Holiday it will be an extremely crowded day. Also with just two days remaining before Lord Athi Varadar goes back to his resting place for next forty years people are expected to come in huge numbers for darshan. Also today Adi Garuda Sevai is performed in the temple and hence there will not be any darshan between 12pm to 8pm. Hence the average wait time will be more than usual and today being the last day for Donor and VIP passes it's expected that waiting time for VIP darshans will be more than usual. Today Athi Varadar is in Raaja Alankaaram.
Today is the 14th of August 2019, Tuesday and it is expected that the crowd will be more as there are only two more days of darshan remaining for Athi Varadar Vaibhavam. However, in comparison to the crowd levels last Tuesday, the waiting will be higher owing to the last week rush. The details mentioned below is the expected waiting time for darshan and the crowd status at Athi Varadar for today.
Early Morning Free Darshan – Approx 6 hours
Dharma Darshan / Free Darshan – 6 hours to 8 hours
Rs 300 Special Darshan – 4 to 6 hours, West Gopuram Gate (Last day for Donor Pass / VIP Pass Darshan)
Rs 500 Special Darshan – 5 hour wait time approx, West Gopuram Gate
Senior Citizen Queue – 4 hours approx wait time, East Gopuram Gate
Parents with Infants Queue – 4 hours approx wait time, East Gopuram Gate
Athivaradhar News Updates for August 15th
VIP visits planned for today –
Deputy Chief Minister of TamilNadu Mr. O Paneer Selvam along with his party cadres offered prayers at Athi Varadar temple in Kanchi today.
Day 46 of Athi Varadar darshan today – The Lord looked magnanimous in white robes, bordered with a shining green 'pattu' border "Raaja Alankaaram".
There will be no darshan of Athi Varadar at Sri Devarajaswami temple on 17th August.
On 17th Aug 2019, the idol will be sent back to its vault inside the Ananthasaras tank.
The temple doors will now close at 2 AM instead of 11 PM.
No VIP and VVIP Darshan on 16th & 17th August 2019.
Collector P. Ponniah hinted that devotees should be prepared to wait for upto 2 days for the darshan.
For the VIPs and devotees with donor pass, a new ramp would be provided at the exit point at West gopuram.
Idol would be placed in the Ananthasaras tank on 17 August 2019.
Let us know if you have any questions or queries. Also check out our previous posts related to Athivaradhar to make your visit a seamless and memorable one.
Image Credits –https://www.instagram.com/celebratekanchi/