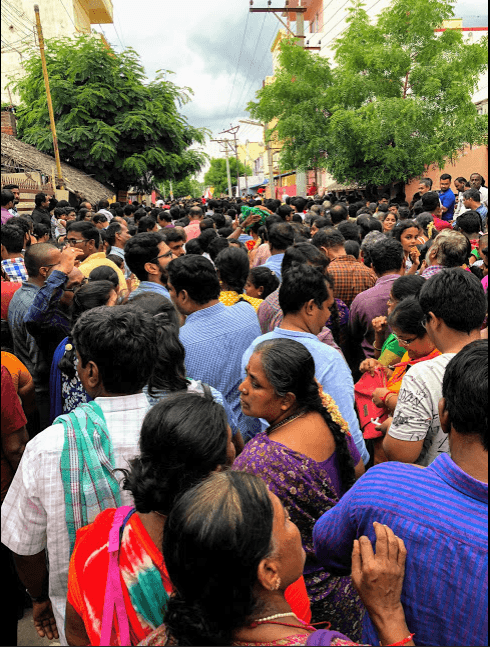 This is our first hand experience standing at the queue for Special Darshan of Athi Varadar on Saturday August 10, 2019. Special Darshan or Rs. 300 tickets can be booked online and these tickets are equal to the donor passes offered by Collector office. If you're arriving in car park them at Pachayappa's college group, a temporary car parking area. Take an auto from there to the vip darshan area. If it's a share auto you will be charged Rs. 20 per person, if it's a normal auto you will be charged Rs. 100 per person. We were three and we took a normal auto for Rs. 300 to the Vip Darshan area. Yes the price is a rip-off but we had no other way to reach the VIP darshan area aka West Gopuram Entrance, the ride was bumpy as autos are not allowed into normal roads, so they take you through . Auto Drops you off near the VIP Darshan area, make sure to inform the auto driver that it's VIP tickets else you would be made to walk from Free Darshan area to VIP Darshan area which would be 1 Km. After getting out of Auto we had to walk for another km to get to the queue which is "Anaikatti Street", so make sure to wear your footwear till Anaikatti Street, you can leave them outside the street and use them on your way back from Darshan. If you leave them inside you cannot get them back as you're going to be in the parallel road while exiting.
Our tickets were for 6pm but we reached around 4pm, we had to stand in a narrow queue initially where they do first verification and let us into the Anaikatti Street, this is a huge crowd not moderated and chances of getting into a stampede is high. We were made to stand here for 2 hours, ropes were used to control the crowd into batches. Credits to the police team for trying to control this huge crowd and they were very tolerant and kind. Kept us informed how long it will take and we were able to buy tea from sellers on street. Note that Donor Pass and Online tickets are the same as we were all made to stand in the same area. After two hours we finally reached the last leg of rope and then into a tent, where they check tickets. They don't check much just the no of persons on the ticket and tear them to give it back to us. Once inside the tent the queue is split into two and then into a single line. From there it took us twenty minutes to reach Vasantha Madapam and we had a close darshan of Athi Varadar for a minute or two. We felt the Darshan was worth the wait. Our way back was the parallel street of how we entered, walked to our left and then took a left where it had sign boards for Auto. Then took a third left to find our slippers and got an auto to carpark for Rs. 250. So we were able to see Athi Varadar under 3hours from our online tickets.

The underlying truth is you don't have to wait till your darshan timing and can even go early for your Darshan to avoid crowd. There is no strict checking hence if anyone mentioned in the ticket has not come you can take another person and they will still let you in as they see the total head counts and not verify people personally. If there are any doubts or information required comment below.