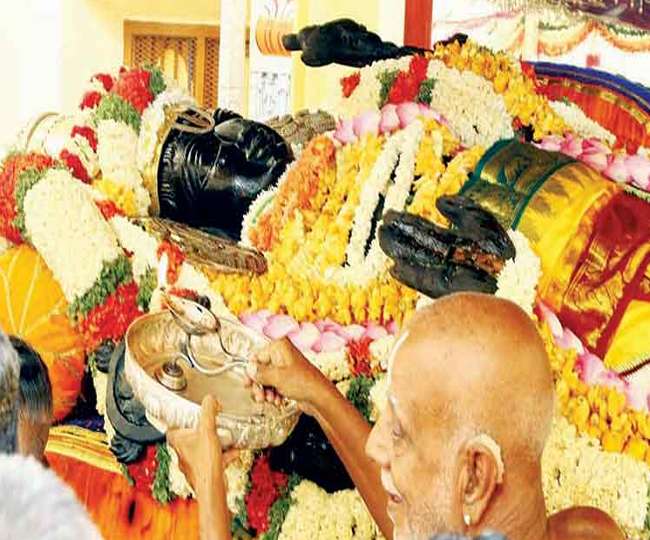 How to Book Athi Varadar tickets online – A Step by Step guide.
Athi Varadar Festival is a 40 year phenomenon and crowds are being drawn in lakhs to the Varadharaja Perumal Temple in Kanchipuram, Tamil Nadu. The Government of Tamil Nadu is offering a INR 300 special darshan as well as a special Sahasranamam ticket which costs INR 500. However, there are just 250 slots for the morning and evening batch in the  special Sahasranamam darshan everyday.




The News Crunch's sources at Kanchipuram are providing every day updates which would help lakhs of devotees who are planning their Athi Varadar darshan in the free category. Regular updates about daily crowd status and average waiting time will be press released on a daily basis.
Athi Varadar Darshan Changes announced by Chief Secretary of Tamilnadu.
Before planning a trip to Kanchipuram to worship Athi Varadar, it is important to go through the checklist of do's and don't for your long darshan.
Athi Varadar Live Crowd Status and Waiting Time for 13th August
Since August 14 is Wednesday and there is expected to be a huge crowd as Vaibhavam is coming to an end on Friday. This would be the fourteenth day of Nindra Kolam.
300 Rs. Special Darshan – 3.5 Hours (Approx.) West Gopuram Gate
500 Rs. Sahasranamam Spot and Online Booking – 3 Hours (Approx.) West Gopuram Gate
Senior Citizens Queue above 60 and Parents with Infants Queue – 4 Hours (Approx.) East Gopuram Gate
Free Darshan / Dharma Darshan – 6 to 8 Hours (Approx.)
Early Morning Free Darshan (Fall in queue by 4AM) – 4.5 Hours (Approx.)
Our data and approximations are based on the past data on the same days of the week, without taking auspicious days or hours into consideration. Also, the data is likely to be deviated by VIP visits or unexpected closures.
Please post any queries or clarifications related your darshan plan and we will be able to help you regarding the same.