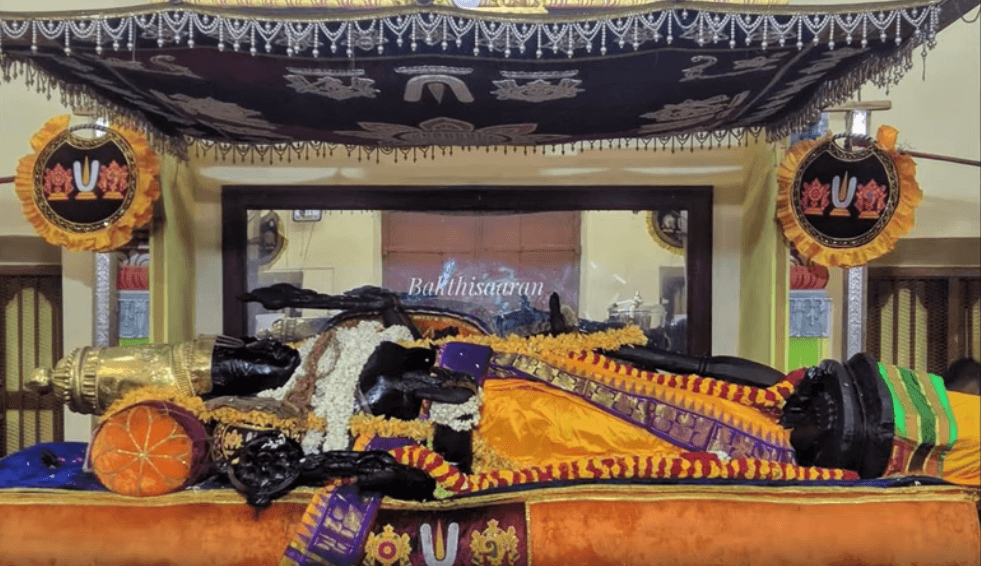 People are constantly commenting and emailing us about Athi Varadar online tickets, so we have decided to share information on how to book them and what if we don't get tickets can we still get a good darshan on free queue. What would be the best time to visit Athi Varadar on weekdays and weekends. Government of Tamil Nadu has officially announced that Nindra Kolam will be from August 1, 2019. So devotees who want to have Sayana Kolam visit Kancheepuram by July 31. The place may get crowded during weekend as this will be the last weekend for Sayana Kolam.



Q – How many days in advance can I book tickets online for Athi Varadar?
You can book 4 days in advance and the tickets are not available for weekends
Q – Which website to book tickets?
Tnhrce is the official website to book tickets, please don't trust any other sources. These are links for 500 Rs and 300 Rs tickets respectively.
Q – What time to book these tickets online?
Athi Varadar 500 Rs ticket opens for booking at 10 am, while the 300 Rs. ticket opens for booking at 11am.
Q – What time are the darshans for 500 Rs tickets and 300 Rs tickets?
500 Rs. ticket darshan is split into two segments morning and evening, while 300 Rs. ticket is from even 6PM to 10PM
Q – How many tickets allowed per person and what are the documents to carry?
A person can book upto 4 tickets and Aadhar card is the only document required.
Q – How difficult it is to book tickets online?
It's difficult as there are only limited tickets available, also the TNHRCE server is not equipped to handle a large amount of traffic. Also the booking interface is not userfriendly when compared to other high traffic sites like IRCTC and TTD online booking.
Q – How many tickets available?
Total number of tickets available for 500 Rs and 300 Rs are 500 and 2000 respectively
Q – Where to report for Online tickets and at what time?
Online ticket queues starts at West Gopuram and report half an hour early than the stipulated time with Aadhar card.
Q – Where is the car parking ?
Car Parking is availabe at Pachayappa college, park at your own risk as there are cases of people breaking glasses of parked cars and taking valuable things. We advice you not to carry any valuable things.
Q – Are there stands for Slippers ?
Unfortunately No, also the entry and exit points are different so plan accordingly where to leave your slippers.
Q – Are there cloak room to leave luggages?
No there are no cloak rooms to leave your belongings, you can carry them with you.
Q – Dress code for darshan?
There are no dress codes and you can carry cell phone.
Q – What are the waiting time for Free Darshan and online booking darshan?
We are updating about Crowd status here daily, check them out.
Q – Are there separate queue for Senior Citizens, parents with infants and Physicall Challenged?
Yes there is a separate queue for them, entry is at East Mada Veedhi. There are no proper signs so get to East Mada Veedhi and inform the officials over there, they will help you. Also for people who cannot walk wheel chair assistance is provided.