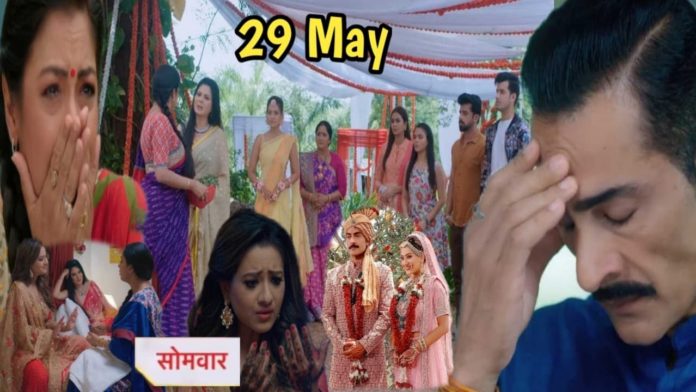 Kavya's high-voltage drama is seen in the show 'Anupama.' Kavya has started preparations for marriage with Vanraj. Seeing which the whole family is quite shocked and upset. On the other hand, Vanraj is still not able to make the right decision. Kavya is very excited about the wedding with Pre-Vanraj. Kavya has also started performing Mehendi and turmeric rituals. At the same time, Vanraj is very upset about this wedding. Know what will happen in Anupama's today's episode.
Kavya is pleased about their marriage to Vanraj. But even during this time, she does not let down Anupama. Kavya herself has started doing Mehendi and turmeric rituals. At the same time, she also asks the entire family to attend her function. Know what will happen in today's latest episode.
Kavya insists on Anupama applying mehendi
Kavya insists on Anupama to apply mehndi and write Vanraj on her hand's name. Anupama refuses a lot, but Kavya still stubbornly insists that he put mehndi in her hand. Anupama approaches Kavya to apply mehndi. Kavya asks Anupama to write Vanraj in her hand. Hearing this, Anupama says that she will write the full name Vanraj Shah on her hand, not V. Kavya gets very angry and refuses to apply mehndi. At the same time, Kavya tells Anupama that she must come to the wedding, and Anupama says that she will not come.
Kavya's Mehndi is spoiled
Anupama does not apply mehndi on Kavya's hand, but Rakhi impregnates Dave. After applying mehndi, Kavya starts clicking pictures happily and then falls. Due to which his mehndi gets spoiled. Seeing this, Anupama tells Kavya that mehndi is like new relationships. The slightest distraction ruins the relationship. On the other hand, seeing Kavya's Mehndi bad, all Rakhi claims start laughing out loud.
While Kavya seems excited about the wedding, on the other hand, Vanraj is very worried about marriage. Vanraj calls Bapu Ji to find a solution to his problem. Vanraj tells Bapu Ji that he does not want to get married. Upon hearing this, Bapu Ji becomes very angry and starts cursing Vanraj. Vanraj asks him to help him and explain how he can come out of this problem. That is why Kavya sends photos to Vanraj with his hands on mehndi. Seeing this, Vanraj gets even more upset.
Anupama gets a bad dream
Suddenly Anupama runs to everyone's room and starts knocking everyone's gate in full swing. She calls everyone in a crying voice, but no one opens the gate. At once, Anupama's eyes open, and she sees that he is a dream. Anupama nervously prays to God that her entire family should be fine.
No one was involved in Kavya's pre-wedding rituals
Kavya calls everyone for the ritual of turmeric, but all come and go, calling Kavya bad. Seeing this, Kavya is very sad and starts applying turmeric herself. Rakhi Dave taunts and tells Kavya that even her future husband, Vanraj, did not leave the whole family. Upon hearing this, Kavya says that now she will go to his room.