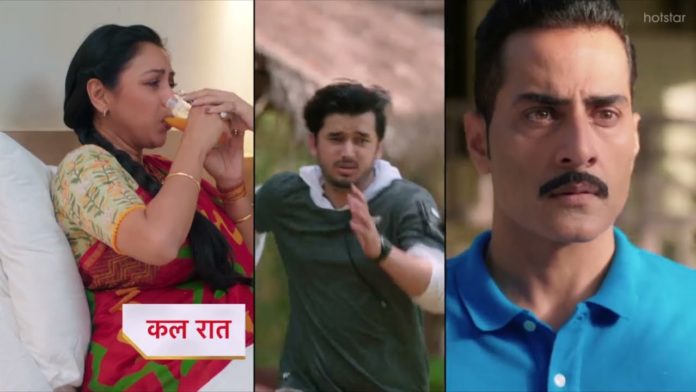 Vanraj tells Samar that if they want to keep Anupama happy, she has to hide about her illness. Now she has to keep her happy every day. Anupama reaches home, where Baa takes her aarti, and becomes emotional. Anupama says the Lord's Aarti and realizes that everyone is hiding something from her. Advaita tells Vanraj about Anupama's illness. He says that Anupama has a tumor in her ovaries. Samar also overhears this and breaks down badly.
TV's popular show Anupama is having a tough time these days. Advaita gives flowers to Anupama and Nandini and then asks them about the health. Anupama says that she is fine. Advaita tries to make Anupama laugh. He explains to her that women remain busy with their families and forget themselves. When a person does not love himself, then how can he love someone else. So he must take care of himself. Anupama also tells Advaita a few things and says that a mother can never end her relationship with her children.
Samar upset for mother
Advaita sees Anupama's medical report, and Vanraj asks him that everything is fine. He says, getting worried; as soon as he reads the entire report, he will first tell it. Samar calls Nandini and asks how Mummy is. She says that the doctor has so far reported BP's problem. He says that Mummy has been working continuously for the last 25 years; Human needs multivitamins and zinc. Now at least she started going on a little morning walk. Kavya is jealous of the understanding between Nandini and Samar and wonders why there is no such understanding between her and Vanraj.
Vanraj shocked after hearing about Anupama's tumor
After seeing the report of Advaita Anupama, the flute starts playing and asks to call Vanraj. Anupama says that the doctor will exaggerate the report. Nandini explains to him that a routine checkup is necessary. Advaita tells Vanaraja that the report is not well. Anupama has a tumor in ovaries. Vanraj gets shocked and asks if Anupam will be alright. Advaita says that we cannot say anything right now; we can try.
Vanraj realized his mistake
Vanraj sees that Samar is listening to them. Samar goes to Anupama's room to explain this, but Vanraj stops her. Vanraj thinks about Anupama's whole life work and says that she made a mistake again. Samar says that he has always made mistakes, and Mummy is going to suffer because of this. Those people were always busy with themselves, and my mother was taking care of us. Vanraj breaks down and starts crying. Samar manages her, and Kavya is watching all this from a distance.