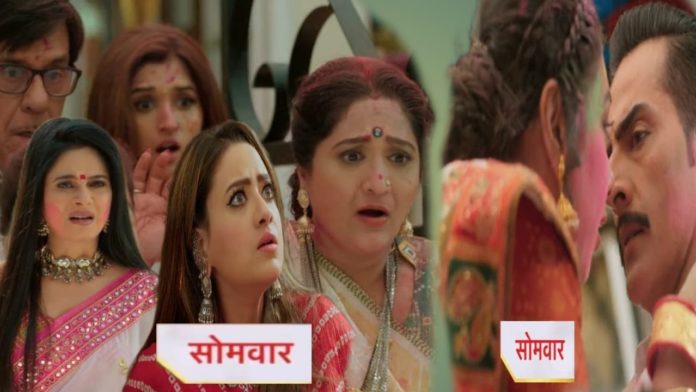 Viewers are getting to see the full-on drama in the serial Anupama. The released track has become quite interesting. Ba asks Anupama to play Holi with all her heart. On the day of Holi, Vanraj stops in a room to not get any color. Here Kavya thinks about how she can color Vanraj.
In the upcoming episode, it will be shown that Vanaraja gives Anupama to apply oil so that her face does not get colored. But Vanraj says that if he does not open the door then how will anyone paint him. After the worship of Holi, all the families start playing Holi. All the people are pleased, and everyone is happy.
Rakhi Dave comes to Holi, and she also has a lot of fun. Kavya also reaches there, and Rakhi tells her why you are going inside the house. Vanraj is locked in his room. Kavya says that she is going to be the daughter-in-law of this house. Kavya calls Vanraj and calls him out to play colors. Kavya thinks that she will do anything to put color on Vanraj.
Rakhi sends Kavya to drink cold to drink, but she accidentally drinks Anupama. After a cold drink, Anupama loses her senses and starts making a lot of commotion. Rakhi thinks why it has not affected Kavya till now. In the last episode, you saw that Ba says to Anupama that you play proper holi and apply color to Vanraj first.
Hearing this, Kavya says that she will apply color first. Vanraj says that he does not like the color, and he is not going to come out of his room. But Kavya thinks in her mind that she will do anything and keep applying to Vanraj.