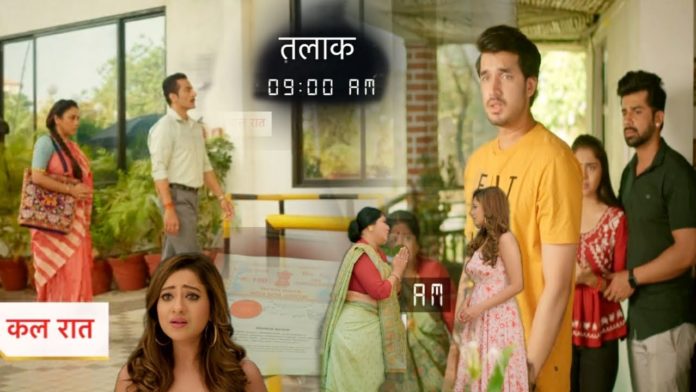 In today's episode, Vanraj and Anupama go to court to apologize to each other for their mistakes and reach court. On the other hand, everyone will be seen in the house being very upset. At the same time, all the people in the house are agitated. Kavya is also immersed in the same concern that there should be no mess. Anupama and Vanraj arrive at the court late. Because of which the gates are closed. To know whether the divorce of Anupama and Vanraj will be postponed or will be done.
TV's most popular show, 'Anupama,' has been showing the track of Vanraj and Anupama getting divorced for a long time. In today's episode, Vanraj and Anupama go to court and talk a lot and apologize to each other for all the mistakes made. There is an atmosphere of trouble in the house. In which Doctor Advaita also tells Samar that his mother's final report is coming soon. At the same time, Kavya is also worried that no one can get messed up. So let us tell you whether Vanraj and Anupama will get divorced today.
Vanraj asked for forgiveness from Anupama
Anupama and Vanraj, going to the talc, remember the moments they spent with each other. Meanwhile, Vanraj apologizes for all the misdeeds he has done to Anupama. Vanraj says that he has 'hurt her heart every time. He apologizes to them for that matter. Vanraj apologizes for spicing him up, not being able to help him in driving a car, and taunting and angrily trivializing him over trivial matters.
During this, Anupama says that she forgives him. But she also apologizes, for which they have made small mistakes. Meanwhile, when Anupama does Sauri, Vanraj says sorry. Which Anupama says properly, and seeing this, Vanraj becomes quite impressed.
Dr. Advaita explained to Samar
Seeing Samar seated on the swing, Doctor Advaita approaches him and explains to him that 'he should not be disturbed like this.' Samar says that 'he feels that he is not able to do anything for his parents. He should have gone to court with them too. On this, Advaita explains to him that at this time, Anupama and Vanraj want to spend time together alone. It is better if they are left as such. After which, the summers cool down a bit. At the same time, Advaita says that the final report of his mother is coming soon.
Court door closed
When Anupama and Vanraj arrive at the court, the watchman standing at the gate tells them that the gate is closed. He cannot go in. ' Anupama gets shocked and upset upon hearing that. She tells the chowkidar that 'it is still 9 o'clock. To which the guard says should have arrived 15 minutes earlier. They should have come 1 minute earlier. ' Hearing this, there is a lot of debate between the guards and Vanraj. After which, the watchman becomes busy somewhere else, and seeing this, Vanraj and Anupama go inside the court.
Family members are worried
Anupama and Vanraj's divorce saddens the entire family. All are sitting in one place in despair. Then Samar says that 'those people are very crazy. Everyone knows that today the parents will be divorced. Then we should not think that. Rather, think about what will happen next. On hearing this, Bau also agrees and says that we should think about what will happen next.
Vanraj-Anupama reached before judge for divorce
Anupama and Vanraj are presented before the judge to sign the divorce papers. Where the judge asks them, 'Do you two have to get divorced? On which Anupama and Vanraj agree. The judge asks if both of you are in great favor. To which Anumpa and Vanraj nodded and answered yes. At the same time, when the judge reads Anupama's papers, he asks that in your papers, you have told your husband not to take anything.
Whether he wrote it himself or under pressure from someone. On which Anupama says no. After which, the judge gives Vanraj to sign the divorce papers. He is distraught while signing the papers, and his pen falls to the ground.