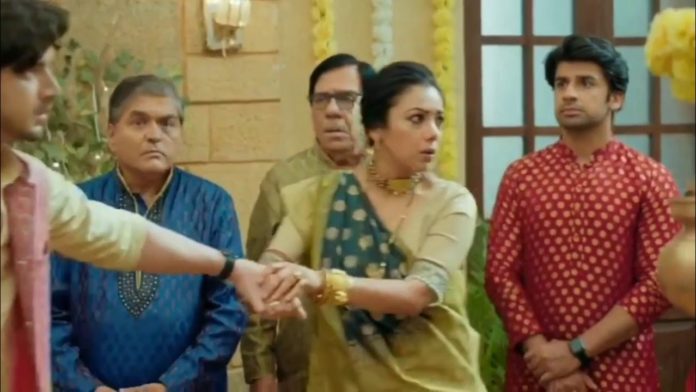 Serial Anupama has become quite interesting these days. Samara is not ready to leave Nandini even after Vanraj refuses. On seeing the worship of Mahashivaratri, Vanraj gets very angry seeing both of them together. Samar brings Nandini to her house in worship.
In the coming episodes, it will be shown that on Mahashivratri, all the Tandavas dance. When Vanraj sees Samar along with Nandini, he becomes enraged. Vanraj tells him that you forget her On this, he says that you also love Kavya, and you are staying here. Samar says, Look at yourself first, then point your finger at my love.
Anupama tries to handle Vanraj and Samar's fight, but it does not affect her. Vanraj tells Samar that he should leave the house and go away. Samar angrily says that this house is not yours. If someone should go, it is both of you because this house belongs to the mother.
Vanraj gets very angry after hearing this and plans to leave the house, but Kavya does not want to leave here. For this, she pretends to be unconscious. Once again, Anupama helps her. The upcoming episode is going to be quite interesting.
In the last episode, you saw that Anupama decorates the entire house on Mahashivratri. Vanraj asks him for his help. She puts a vaccine on her head, and Vanraj goes to plant her vermilion. But she sees Kavya, after which Vanraj gives her just a vaccine.
Vanraj tells Anupama that she is not getting any job, and Anupama gives her comfort and says that she will get a job, keep Pharos. Here Samar goes to bring Nandini with her in Shivaratri Puja. Rakhi tells everyone that Kavya and Vanraj are looking for a new home for themselves. Here, Vanaraja loses his temper by seeing Summer Nandini together during the puja.