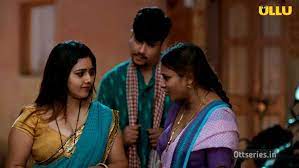 Attention all entertainment enthusiasts! We have some incredibly thrilling news for the dedicated fans of the Ullu Web Series. Brace yourselves for an engrossing experience as the Ullu platform unveils its latest captivating offering – Anari Part 3. The anticipation surrounding this installment has been palpable, and now the wait is finally over! Get ready to embark on an enthralling journey as the series is all set to captivate and entertain everyone.
Anari Part 3 Web Series Release Date & Plot: What to Expect?
Mark your calendars for the release date, 25th July 2023, as Anari Part 3 makes its debut on the Ullu app. The series comes with an intriguing caption, "Najar main tumhen basa Rakha hai. Apna tumhen banaa Rakha hai. Dur tumhen jaane nahin denge. Isiliye tumhen bahon mein saja Rakha hai." This captivating tagline has already piqued the interest of viewers, adding to the excitement of what's in store.
If you've had the pleasure of experiencing the first two parts of this series, you're in for a treat. The story promises to be nothing short of riveting, keeping you on the edge of your seat throughout. For those who haven't caught up on the previous installments yet, doing so will undoubtedly enhance your enjoyment of Anari Part 3.
For those curious about the talented cast bringing this gripping tale to life, scroll down and discover the brilliant actors who have breathed life into the characters we've come to love.
Prepare to be enthralled by Anari Part 3 and let the adventure begin! Stay tuned for more updates and immerse yourself in the enchanting world crafted by the Ullu Web Series.
Anari Part 3 Trailer
Anari Part 3 Cast
Anita Jaiswal
Priya Gamre
Bhanu Suryam Thakur
Muskaan Agrawal
 Dheeraj Alwani
Shivanand Shrivastav
The show's cast has delivered exceptional performances, fulfilling their roles with skill and dedication, providing a delightful entertainment experience for their devoted fans. An enthralling Hindi language series, it can be accessed on the Ullu app, proudly representing Indian content. As Ullu is renowned for its adult-oriented series, Anita Jaiswal takes the lead as Naina, while Bhanu Suryam Thakur portrays the male lead role, both impressively bringing their characters to life.
Moving forward, let's delve into the gripping storyline. The narrative revolves around Raja, a special child residing in a rural village. His life takes a significant turn when he marries Naina, who eventually discovers her husband's inability to fulfill her physical desires. This revelation sets off a chain of dramatic twists, with her husband taking advantage of the situation, leading to unforeseen consequences.
To explore the intricacies of Anari Part 3's captivating plot, head over to the Ullu app and dive into the series. More exciting updates await, so keep an eye out for further developments. Happy watching!
Watch Anari Part 3 Online Free Download
Anari Part 3 can be viewed on the ULLU App. Pirated versions of the full episodes are available on multiple unauthorized websites.