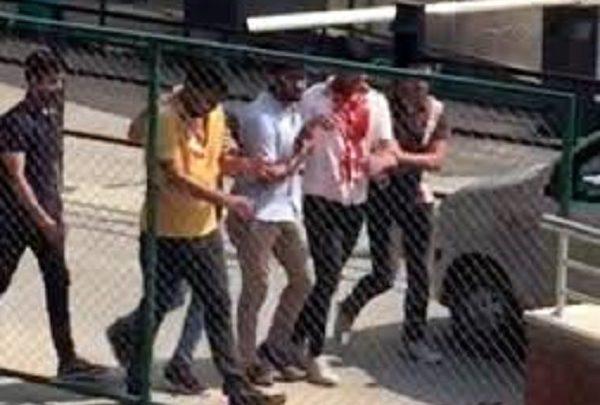 Two student groups, who were involved in the car removal dispute at Amity University in Sector 125, are constantly tweeting in support of two students in the assault case. On Twitter, students have been tweeting the Noida Police, UP Police and SSP Noida along with the hashtags Justice for Harsh and Justice for Madhav. It is known that Harsh Yadav, resident of Ghaziabad and Madhav Chaudhary, resident of New Delhi, are BA students in Amity University. According to Harsh, at around two o'clock on Wednesday afternoon, he was entering the university from Gate 3B in an I-20 car. A student riding a car was standing at the gate. At his behest, the student did not leave the way and abused him. It is alleged that at half past three to three in the afternoon, the student entered into her class room with 15 to 20 students and assaulted her. Meanwhile, his friend Madhav and the female teacher, who were rescuing, were also hurt.




He has lodged a report against the student and some students who came with her. On the other hand, the student has also filed a report of molestation on three students. The student has alleged that she was sitting in the car. Just then, Harsh, Madhav and another youth in I-20 came from the wrong direction and asked her to remove her car. On coming from the wrong direction, he also asked those students to take back their car. Angry students opened the door of their car and started abusing them. On the protest, they pushed and dropped him to the ground and threatened to kill him. Police is investigating both the cases.
A few days ago, there was a fight between two student groups at Amity University in Sector-125, Noida. In this incident, a student accused a student studying in her college of molesting her. Even that student along with some of her male colleagues entered and attacked inside the class room in the college campus, in which many students and students have suffered serious injuries.
When the three students reached the police station to file a report after being seriously injured, they were surprised to know what they found after reaching there. The students who beat up had lodged an FIR with the Noida Police before they were beaten up with the students.
Now a video of the victims is going viral on social media, in which they are also demanding support from all the people. In fact, the video contains an audio message stating that "As he was eating and coming to the university campus, there was a Ford Endeavor car parked at the gate which student Madhav Chaudhary asked her to remove. Denied and started abusing Madhav Chaudhary. Harsh Yadav also came to the rescue to whom those girls started abusing. She threatened to show her status. As soon as the matter subsided and these two students went to their class.
After about an hour, the girl, along with some of her 10 to 15 male friends, reached the class room of the university campus and started fighting with Harsh Yadav, Madhav Chaudhary and Diwakar Tyagi. The fight had become so terrible that Harsh has got 7 stitches and human is admitted in ICU. After the incident, when we went to report against these people, we came to know that these women have already made FIR against us for molestation. These girls have ruined the lives of two people due to their arrogance. "
Many people are supporting these boys on social media and also tweeting in support of them.