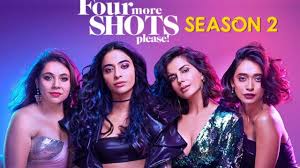 Four More Shots Please Season 1 was widely accepted for it's coming of age story which broke the stereotypes associated with womanhood. The Amazon Original series has been renewed for a second season which will release on April 17th 2020. On International Women's Day the poster of the second season was released. Amazon Prime Video announced that the story would continue the journey of the four friends who were battling different notions of womanhood. The poster of the second season gives a vivid description of the four leads that intend on celebrating their flaws and moreover accept them. Directed by Nupur Asthana and written by Devika Bhagat, the show is produced by Pritish Nandy Communications Ltd and is created by Rangita Pritish Nandy.




Four More Shots Please Season 2 Poster
https://www.instagram.com/p/B9dZQH3pFuP/
The poster of Four More Shots Please Season 2 shows the unapologetic four main characters who are flawed in their lives, love, they create blunder and go on to discover what it really takes to maintain a strong bond in the hustle and bustle of Mumbai.
Four More Shots Please Season 2 Cast
The first season of Four More Shots Please brought forward characters that were natural and realistic. This was because the actors made us find ourselves in their characters. The cast of Four More Shots Please returns for the second season. The series stars Sayani Gupta, Kirti Kulhari, Bani J , Maanvi Gagroo, Prateik Babbar, Lisa Ray, Milind Soman, Neil Bhooplalam, Simone Singh and Amrita Puri.
Four More Shots Please Plot
Four More Shots Please is the narrative of four friends, best friends who met at a bar and formed a bond so strong that they become one another's backbones. The story follows media executive Damini ( Sayani Gupta), lawyer and working mom Anjana (Kriti Kulhari), fitness instructor Umang ( Bani J) and the spoilt child of the group Siddhi (Maanvi Gagroo). The show deals with Damini's demanding profession mixed with her OCD and need to find solace, Siddhi's elite socialite mother who demands perfection to maintain social status, Anjana's struggle to move past her divorce and co-parent and Umang's move from a village in Punjab to escape marital pressure and to experience freedom being a bisexual woman.
Four More Shots Please Review
The first few episodes of the show do not set the story in motion. They are meant to establish an aesthetic and theme but it is not until later that it does so. The pilot episode is rather shallow and it takes some time to establish itself among the transitions, unnecessary dances, preachy feminism and alcoholic endeavors. The focus shifts to the stories of the four individuals which garners the attention of the viewers.
https://www.instagram.com/p/B7tmGKMJgu9/
The story shows the journey of four women who live and work in Mumbai. They drown their sorrows in alcohol and seek solace in one another. Damini is a workaholic whose lives are solely based on journalism. She has no time for men and doesn't even allow them to spend the night after a no strings attached sexual relation. Anjana is a divorcee; she has forgotten what sex felt like since she did not have any post the birth of her daughter. Her ex has swiftly moved on while she is stuck in the past unable to get over him. Umang is bisexual who moves from one casual hook up to another until she falls in love with a closeted woman. And finally the virgin Siddhi, who is emotionally haunted by her mother for not being the perfect size and unable to find the perfect man to marry. The characters struggle with the unfairness of life, jealously, the desperate need to be loved and find validation.
How to Watch Four More Shots Please?
Four More Shots Please Season 2 is available solely on Amazon Prime as it is an original series. The second season will be streaming on Prime from April 17th 2020. To watch Four More Shots Please Season 2 follow the next few steps:
Download the Amazon Prime App on your phone or open the web page on your browser
Login to your Amazon Account. If you are not a member of Amazon Prime pay the necessary subscription fee
Search for Four More Shots Please Season 2. It will be available on Amazon Prime from 17th April 2020