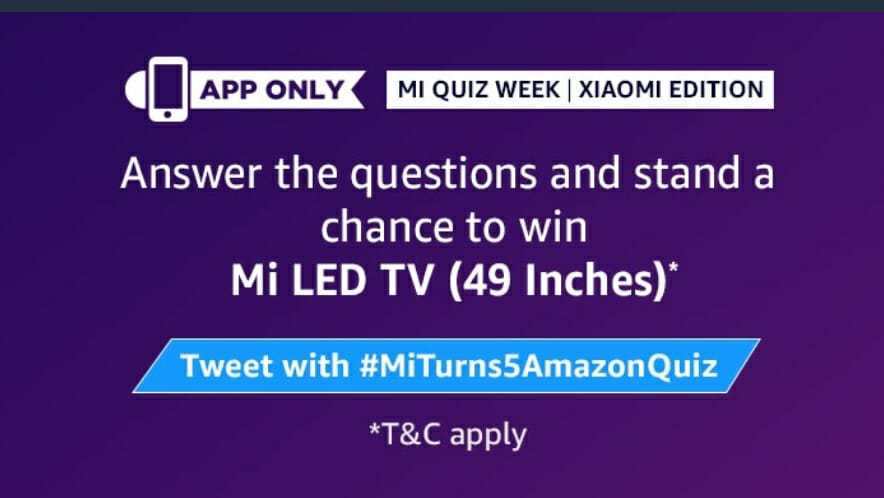 The Amazon Prime Day season is filled with exciting forthcoming deals for Amazon Prime members, great releases on Prime Video and stunning discounts on Echo products on Amazon Prime Days which falls on July 15th and 16th. Though the Prime Day sale is over, Amazon's quizzes are still open for customers to participate.
As we head into the second week of July, the Amazon Prime Day quizzes are getting even more exciting and challenging. There is a daily quiz which happens to be live everyday between 8AM to 12 Noon.
There are other brand driven quizzes like the Intel Amazon Quiz, the Amazon Fit Quiz will are giving customers exciting offers to woo them to participate.
How to Participate in the Amazon Mi LED TV Quiz?
Sign in to the Amazon India app. In case you are not signed in, you will be redirected to the Amazon sign in page.
There will be a total of 5 questions which are related to MI.
Answer all the questions to enter the lucky draw.
You will be notified via e-mail/SMS in case you win the draw.
Amazon Mi LED TV Quiz Answers
Q1 – In Which Year Did Xiaomi First Launch It's Smartphones?
Ans – 2011

Q2 – Who Is The Managing Director Of Xiaomi In India?
Ans – Manu Kumar Jain
Q3 – Which Of The Following Celebrities Has Been The Latest To Be Associated With Xiaomi?
Ans – Ranvir Singh
Q4 – What Is The Name Of The Operating System That Xiaomi Has Developed For It's Smartphones?
Ans – MIUI
Q5 – What Is The Biggest Size That The Mi TV 4 Series Comes In?
Ans – 55 In
What Do the Winners Get?
A total of 5 winners will be randomly chosen and given Mi LED TVs or before September 30th 2019.