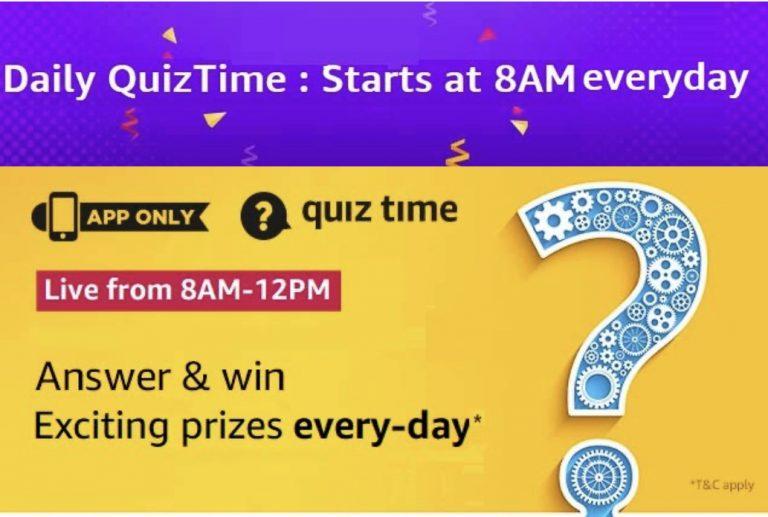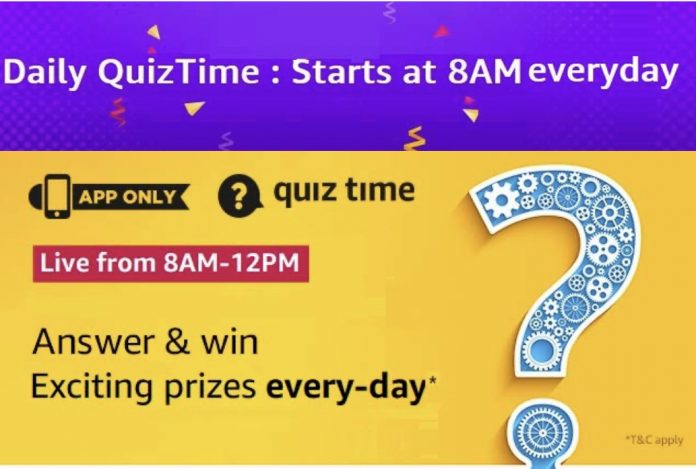 We will be helping with answers to all the Amazon Daily Quiz puzzles during Daily QuizTime between 8am to 12pm. These quiz starts at 8am everyday. Here are the answers to Amazon Quiz for Tuesday January 14 2020. This Amazon Daily Quiz Time Contest Is App Only & Amazon Quiz Question & Answer Start At 8 AM & Close At 12 PM. Guys, We Will Provide Answers At Sharp 8.01 AM And It Is faster than Other websites and hence it will help you to post your answers in the app easily and as soon as possible. This may increase your chance of winning.




How To Participate In Amazon Daily Quiz 14th January, 2020
Download Amazon App From Google Play Store OR Apple Store.
Open & Sign In To The Amazon App.
Go To Home Page & Scroll Down Then You Will See "Amazon Quiz 14 January" Banner, Tap On It.
Now Just Tap On Start Tab To Play The Quiz.
Make sure to answer by 12 PM as the quiz is not valid after 12pm today. .
Amazon Quiz 14th January 2020 Answers Win Canon M200 Mirrorless Camera
Question 1 : On January 2, 2020, Prakash Parv was celebrated as the birth anniversary of which Sikh Guru?
Ans :- Guru Gobind Singh
Question 2 : David Stern who recently passed away was a former Commissioner of which famous Sports league? (Hint : Players like LeBron James, Michael Jordan played in this league)
Ans :- NBA
Question 3 : For playing which character did Joaquin Phoenix win the 2020 Golden Globe Award for Best Actor in a Drama Motion Picture?
Ans :- Joker
Question 4 : Leo Carter recently became the 4th in T20 cricket and 7th overall to achieve what feat? (Hint : Yuvraj achieved this in 2007)
Ans :- Hit 6 Sixes in an over
Question 5 : Andaman and Nicobar Islands recently commemorated the 76th Anniversary of the first flag hoisting by whom?
Ans :- Netaji Subhas Chandra Bose
This Contest Will Commence On 14th January From 08:00:01 A.M. (IST) To 12:00:00 P.M. (IST) ("Contest Period")
In Order To Be Eligible For The Contest, During The Contest Period You Must Sign-In To Or Sign-Up From An Account On The Amazon.In App ("Amazon.In App").
Once You Have Signed-In To The Amazon.In App, You Can Participate By Navigating To The Page Where 5 (Five) Questions Will Be Posted During The Entire Contest Period.
Thereafter, If You Answer All The Quiz Questions Correctly, You Will Be Entitled For A Lucky Draw Which Will Be Carried Out Amongst Participants Who Have Answered That Particular Question Correctly.
The Draw Of Lots Will Be Carried Out During The Contest Period For The Questions And A Total Of 1 Participant Will Be Selected As Winners By A Random Draw Of Lots.
The Declared Winner(S) Will Be Eligible For Winning" Exciting Prizes " (Hereinafter Referred To As "Prize(S)").