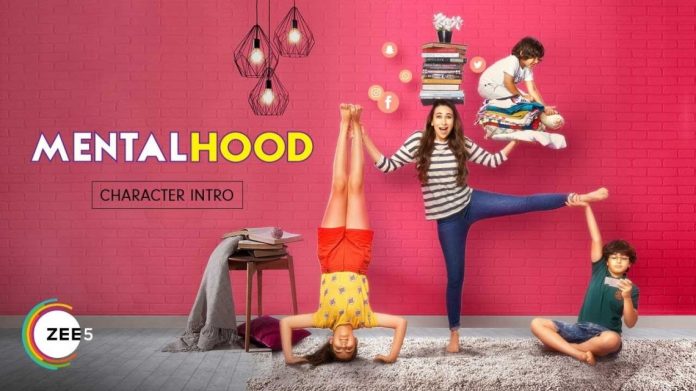 Depicting a true and lifelong journey of motherhood is always misinterpreted. So, modern mothers are thankful to ZEE5  to give a gist of motherhood into comedy-drama series, Mentalhood which is now streaming on Alt Balaji. Mentalhood is the most relatable series which interprets a large chunk of a mother's life in today's world.
Hats off to the director, Karishma Kohli to address the hard work of different mothers in raising their kids irrespective of their profession, gender or behaviour. She has depicted the story of motherhood from different angles by showcasing working mothers, stay-at-home parent and more. She has highlighted as well as answered the question of every husband, 'Tum din bhar Ghar par rehti ho, what do you do all day?'
This series, would give the women a break from all the saas-bahu flicks and make them feel more appreciated about the feeling of motherhood.
Different challenges faced by different mothers with their separate professions with just one motive and that is to be the best in their parenting and to shape their kids into a good human being.
Here are some of the points that are super relatable from the mother's perspective:
The mundane chores of the mother and still they aren't appreciated in society.
Pushing your kids to be the best version of themselves.
Guiding the difference between what's good and bad to your children Understanding your child's behaviour through their different life stages.
Balancing your profession and motherhood is a tedious task.
And last but not the least, the trailer ends with a line that says "Every day is madness in a mom's life. It's not motherhood, it's a mental hood."
Needless to say, I would 100% recommend it to my reader and suggest them to go and watch it on ZEE5. This comedy-drama series is fun to watch with or without your better half. I am not able to control my excitement as it will be streaming on 11th March. Are you going to watch it too? If you do watch it, then do let me know your reviews on the new Mentalhood series by ZEE5 in the comment section.
Mentalhood Web Series Rating
The News Crunch's review team gives Mentalhood 3.5/5.
Mentalhood Web Series Cast
Karishma Kapoor
Nikita Katakwar
Sanjay Suri
Tillotama Shome
Shilpa Shukla
Shruti Seth
Dino Morea
Sandhya Mridul
ALT Balaji Mentalhood Trailer