Aja Ekadashi is observed during the Krishna Paksha period in the holy month of 'Brahapada' in the Hindu Calendar. This is usually equivalent to August or September in the English calendar. Aja Ekadashi is also termed as 'Ananda Ekadashi'. This Ekadashi is observed for Lord Vishnu and Goddess Lakshi (the Goddess of Wealth). Aja Ekadashi is a 'Vrat' (fasting performed as a belief dedicated to some ritual/God) performed by most of the Hindus, especially in the northern states of India.
When Is Aja Ekadashi 2019?
Aja Ekadashi will be celebrated or observed on August 26th 2019 (Monday).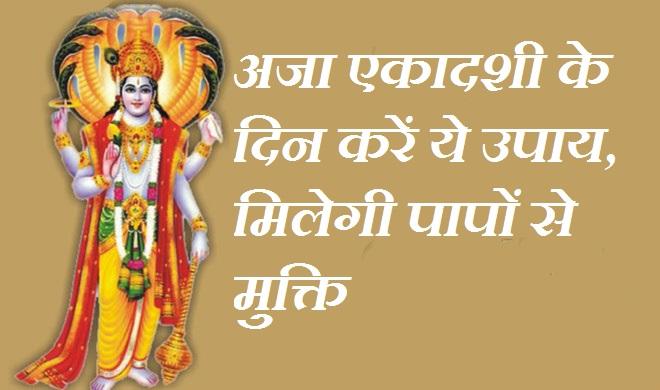 Aja Ekadashi 2019 : What Are the Rituals?
The devotees of Lord Vishnu will observe a 'vrat' or fasting in honor of the Lord they believe in. The devotees will be eating 'satvik' food (usually refers to naturally ripened food items like fruits and nuts) on the previous day which is the 10th day or Dashami.
The intake of Satvik food is believed to ward off negativeness associated with the mind.
On the day of Aja Ekadashi, devotees wake up before sunrise and take a bath with mud and sesame seeds. The pooja place is cleaned and decorated.
An idol or photo of Lord Vishnu is placed on the holy kalash which is covered with red cloth. A deepam or diya is lit infront of the deity.
The devotees observe a strict fast during the day including food, honey and water.
The devotees chant 'Bhagvad Gita' or 'Vishnu Sahasaranamam' (mantras related to Lord Vishnu) and meditate the name of the Lord.
The fast or 'vrat' is broken on the 12th day which is 'Dwadasi' after offering a meal to any Brahmin. Prasad is also distributed among friends and family.
Timings of Importance On Aja Ekadashi 2019
| | |
| --- | --- |
| Sunrise | August 26, 2019 6:10 AM |
| Sunset | August 26, 2019 6:46 PM |
| Dwadashi End Moment | August 28, 2019 2:36 AM |
| Ekadashi Tithi Begins | August 26, 2019 7:02 AM |
| Ekadashi Tithi Ends | August 27, 2019 5:09 AM |
| Hari Vasara End Moment | August 27, 2019 10:31 AM |
| Parana Time | August 27, 1:43 PM – August 27, 4:14 PM |