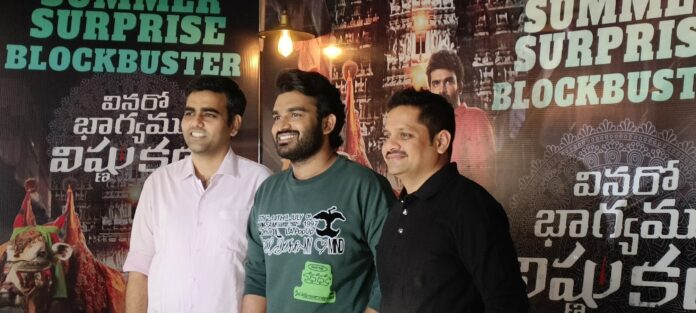 Hyderabad, 25th March: aha, the 100% Telugu OTT platform, has hit a home run with the post-theatrical streaming rights of the Telugu thriller Vinaro Bhagyamu Vishnu Katha (VBVK). Since its release on March 22 on aha, the film has broken all records, surpassing 100 million viewing minutes in 24 hours. With such staggering figures, the film has become a shining example of how small-budget films can still achieve big things.
Lead actor Kiran Abbavaram shared his excitement over the film's success in a press meet, stating, "This film left me with many pleasant memories, and I'll always cherish it. Managing a feat like 100 million minutes within a day of its OTT release is special. When I receive calls informing me that the viewership for VBVK on aha is on par with the hit episodes on Unstoppable with NBK, Telugu Indian Idol, I am genuinely thrilled. aha has been a constant companion in my journey – so much that people refer to me as aha Abbavaram."
Producer Bunny Vas echoed the sentiment, stating that the film's success is a testament to aha's support and dedication. "We are thrilled with the overwhelming response to Vinaro Bhagyamu Vishnu Katha. Our previous projects, Most Eligible Bachelor and 18 Pages, have also succeeded. This film's success could serve as a case study for how to drive the business of a small-budget film."
For aha, the success of Vinaro Bhagyamu Vishnu Katha reaffirms its position as the go-to destination for Telugu content. "At aha, we are dedicated to providing the best entertainment experience for our viewers, and we are thrilled to see the overwhelming response to Vinaro Bhagyamu Vishnu Katha," said Kartheek Kanumuru, Marketing Head for the platform. "We will continue to bring the best of Telugu entertainment to our viewers with exciting new releases and innovative offerings."
With this achievement, aha has once again demonstrated its ability to connect with Telugu audiences and provide quality content that resonates with them.
Do watch Vinaro Bhagyamu Vishnu Katha only on aha!