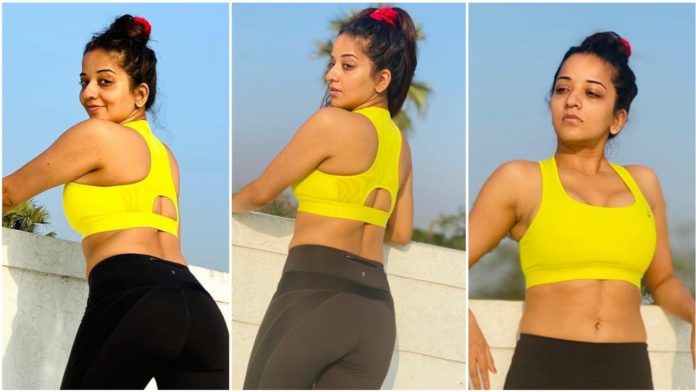 After ruling Bhojpuri films, TV actress Monalisa has shared photos showing her fit body. In these photos, Monalisa, aka Antara Biswas, is amazing. Fans are not tired of praising her new look. These photos are like a gift for her 4 million Instagram followers.
In these viral photos, Monalisa is wearing a bright yellow sports bra and black leggings. Looking at the photos, it seems that the actress is standing on the terrace. She posed boldly on the small designer wall on the roof. In all the photos, she is seen flaunting her amazing body. Those who have commented on these photos have praised the actress as hot, cool. She has more number who have spoken about the heart using the emoji of Heart and Fire.

Talking about Monalisa's work front, her career started with Bhojpuri films. Her popularity remains there even today. Although she no longer does Bhojpuri films. Older videos and movies are still seen today. Monalisa got nationwide recognition from Bigg Boss season 10.

Monalisa is married to Vikrant Singh Rajput. They were married on January 17, 2017. This year both celebrated their fourth marriage anniversary. During this, both of them fed each other chocolate and cut the cake.

Addressing Monalisa in her post, Vikrant wrote, Listen, 'Happy wedding anniversary. I believe that God must have had some plan when we met. To love and always be with each other. ' At the same time, Monalisa wrote, 'Love you, baby.' Monalisa's husband also appears in TV shows.